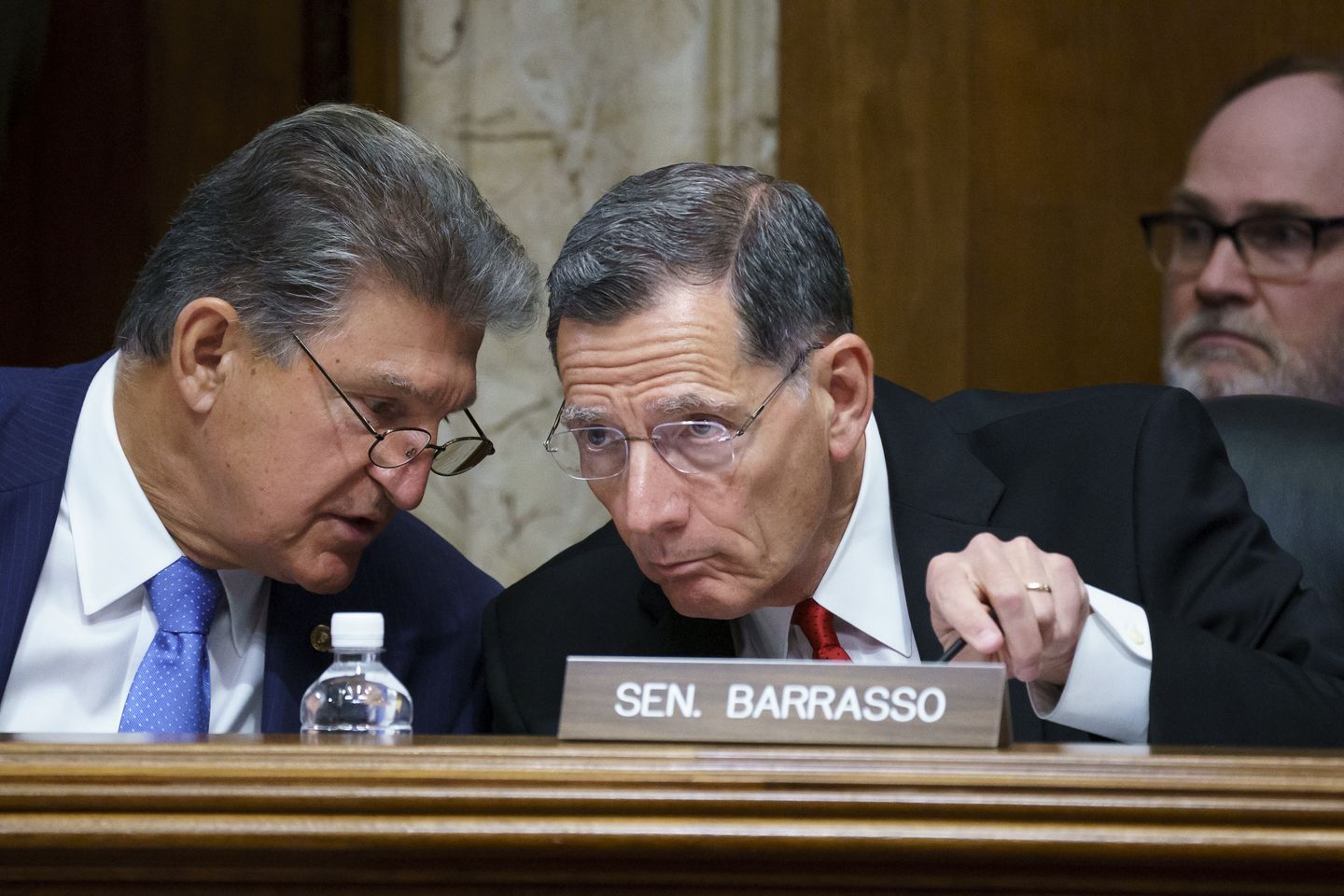 Biden says he did not intend a veto threat on a new bipartisan infrastructure deal
President Biden withdrew his threat to veto a $ 1 trillion infrastructure deal, amid a backlash from Republicans who felt betrayed by the White House's insistence that the package pass "in tandem" with a big bill on social spending.
In a statement released from Camp David over the weekend, Biden said his comments Thursday "created the impression that he was issuing a veto threat on the plan he had just agreed upon, which was certainly not my intention."
"I indicated to him that I would refuse to sign the infrastructure bill if it was sent to me without my Family Plan and other priorities, including clean energy," Biden said. "That statement understandably upset some Republicans, who don't see the two plans as linked."
On Thursday, shortly after accepting the infrastructure deal during a White House meeting with bipartisan lawmakers, Biden tried to make its approval depend on his American Family Plan. That $ 1.8 trillion proposal, which is not supported by the 50 Democrats in the Senate, would spend a lot on "human infrastructure," such as expanded child care and job training for criminals.
"If only one comes to me… and if this is the only thing that comes to me, I won't sign it. It is in tandem ", declared the president at that time.
Biden's promise, while supported by Democratic leaders, quickly earned reprimand from Republicans. The 11 Republican lawmakers who helped craft the bipartisan agreement compared it to a "betrayal" by the president.
Sen. Lindsey Graham, a Republican from South Carolina, went one step further by saying the measure amounted to "extortion" and dropped his support for the bipartisan deal.
The White House statement on Saturday was designed, in part, to prevent further defections by Republicans.
"Our bipartisan agreement does not prevent Republicans from trying to defeat my Family Plan; likewise, they should have no objection to my dedicated efforts to pass that Family Plan and other proposals together, "said Mr. Biden. "We will let the American people, and Congress, decide."
Senior White House aides have been consulting with key senators since the president's apparent mistake.
Despite Biden's clarification, the situation facing lawmakers remains the same. The bipartisan infrastructure agreement and the Family Plan are and will continue to be linked.
Both democrats Senate Majority Leader Charles E. Schumer of New York and Speaker of the House of Representatives Nancy Pelosi of California have committed to a "two-way" process on infrastructure and Mr. Biden's Family Plan.
Since the latter has no chance of getting at least 60 votes to overcome an expected filibuster in the evenly divided Senate, it would have to act through budget reconciliation. The process allows spending bills to pass the Senate with a simple majority of 51 votes.
However, such a feat is complicated by Democratic discord within the 50-50 Senate. Centrist Democrats like Senators Joe Manchin III of West Virginia and Kyrsten Sinema of Arizona are unlikely to back a reconciliation bill that includes all the measures the far left wishes.
On Sunday, Manchin told ABC "This Week" that he would likely support a reconciliation package amounting to more than $ 1.5 trillion, provided it is paid for by repealing the Trump-era tax cuts.
"I want to make sure we pay it off, I don't want to add more debt," Manchin said. "So if that's a trillion, or a trillion and a half or two trillion, whatever that turns out to be over a 10-year period. That is what I would be voting for. "
It's unclear if that would be enough to pacify progressive Democrats, who favor a big-spending reconciliation package. For their benefit, progressives have the power of the Speaker of the House behind their momentum.
Ms. Pelosi vowed Thursday to prevent the infrastructure bill from reaching the House floor before the Senate presents a reconciliation bill.
"We will not accept a bill in the House until the Senate passes the bipartisan bill and the reconciliation bill," he said. "If there is no bipartisan bill, then we will just go when the Senate passes a reconciliation bill."
In his statement Saturday, Biden argued that it was "clear from the outset that I was hopeful that the infrastructure plan could be one where Democrats and Republicans work together, while I would seek to pass my Family Plan and other provisions on process known as reconciliation. "
Republicans and some moderate Democrats, however, are still shocked by Pelosi's attempt to take the infrastructure package hostage.
"There is not going to be much bipartisanship if you try to block all of this," Sen. Bill Hagerty, Republican of Tennessee, said on social media.
Although some Republicans said they were encouraged by Biden's statement, the party's overall position remains undecided.
Sen. Mitt Romney of Utah, who helped craft the infrastructure deal, said during an appearance on CNN Sunday that he trusted the president's "word" on infrastructure but opposed reconciliation.
"I trust the president … At the same time, I recognize that he and his fellow Democrats want more than that," Romney said. "And Republicans are saying absolutely no, we will not support a bill that will pass with a massive tax increase … trillions of dollars in new spending, that is not something we will support."
Other early supporters of the bipartisan deal are taking a different approach. Sen. Jerry Moran, according to a source close to the Kansas Republican, told Manchin and Sinema that their support for the infrastructure deal depends on their opposition to reconciliation.
Most Republicans, however, are not convinced to back the infrastructure bill if Democrats plan to go it alone, anyway.
"Well, I have spoken with several members of the bipartisan group. Everyone is reluctant now to move on, "said Wyoming Republican Senator John Barrasso during an appearance on Fox News. "They are going to need more assurances from the president that there is no link, there is no connection between the bipartisan bill and this bill that the Democrats want to do."
Sign up for daily newsletters