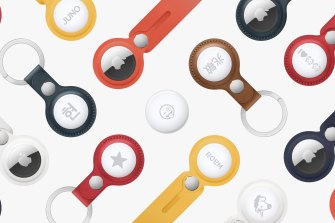 Parents are urged to keep Apple AirTags out of the reach of children.
Australian parents were warned to keep children away from Apple's AirTag tracking beacons, amid concerns that the tiny batteries inside could be removed and swallowed.
The wireless tags, designed to stick to keys or anything else that can be lost, launched in April and work by communicating with nearby iPhones. But the Australian Competition and Consumer Commission said it is concerned about the safety of the product.
"As a safety measure, we urge parents to keep AirTags away from their children," said ACCC Vice President Delia Rickard.
"We are continuing to investigate to determine what actions may be necessary to address our security concerns."
AirTags are powered by a small button battery, accessible by pressing and turning the back of the device. This is easy to do, according to the ACCC, and it is also possible to close the battery compartment without fully securing it. The AirTag beeps to indicate that the cover is closed, even if it is not fully secured.
In Australia, three children have died and dozens have been injured as a result of ingesting button batteries or inserting them into the nose or ears. The batteries caused a chemical reaction that can burn body tissue.
Manufacturers currently follow a voluntary guideline on button cell safety, but the new mandatory standards are expected to go into effect in June 2022, which would carry financial penalties for non-compliance.
Apple has been contacted for comment on this story. The company previously stated that it intended to ensure that its device met security requirements.
"Apple is working to ensure that [its] products will meet or exceed new standards, including packaging labeling, well ahead of the required timeline, "he said.