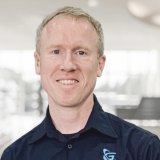 Australian space company grows small to beat Musk and Bezos
"There are more than 200 venture-backed companies working on some kind of satellite program around the world. And there are literally 20 to 50 more starting each year, "Gilmour said.
"Since we started the company, there have been many more companies that are focusing on space as a way to distribute content to people on earth."
The company also envisions a lucrative market in the repair and replacement of broadband constellations that are currently increasing by the thousands, which would require a rocket to launch to a specific location and deploy new equipment.
Gilmour has again raised $ 61 million in funding, including investment from venture capital firm Blackbird and superfund HESTA, which Gilmour said is the largest private equity investment raised by a space company in Australia, will be used to prepare for launch and invest. in designing a larger vehicle that can carry heavier payloads.
Loading
"We have long-term visions for manned spaceflight," he said.
"We also believe that there will be many opportunities to bring payloads to different planets and moons of planets, so we are going to develop vehicles and systems that can do that as well."
Get news and reviews on technology, devices and games in our technology newsletter every Friday. Sign up here.