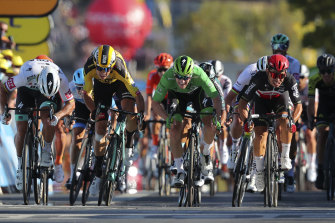 Reception issues make tuning for the Tour de France an uphill climb
As the Tour de France returns to the Alps, it's time to resume my annual uphill battle for decent television reception.
Like many homes, we don't see much free-to-air television these days. Still, the rooftop antenna still gets a good workout every winter during SBS's three-week nightly coverage of the world's largest bike race, despite the trials and tribulations of trying to get a free reception in a Valley. .
In the days of analog television, poor reception meant a blurry picture. In the digital age, the image breaks and freezes, which is much more annoying.
Two years ago, I brought back my antenna guy, Francis, to move my antenna before installing the solar panels. The fact that it has a common type of antenna, and the fact that we are by name, speaks to the adversity that we have faced together over the last decade.
Back then we decided to switch from a VHF antenna pointed at Mount Dandenong to a UHF antenna pointed across the valley to Melbourne's CBD.
At the same time, Francis replaced cheap overhead overhead wiring with decent quad-core shielded wiring. You are less susceptible to the clutter of electromagnetic interference that comes from filling your home with technology.
Replacing the splitter in the ceiling and the wall outlet in the living room also helped. Unfortunately, replacing the overhead cables that run through the walls from the ceiling proved more challenging. We decided to wait and see if we had already done enough to improve the signal.
Some days the image is great, some days it is horrible. All channels are temperamental, but unfortunately SBS gives us more problems.
Two years later, with Le Tour fast approaching, I recently called Francis to replace that cheap wiring in the walls with the good stuff.