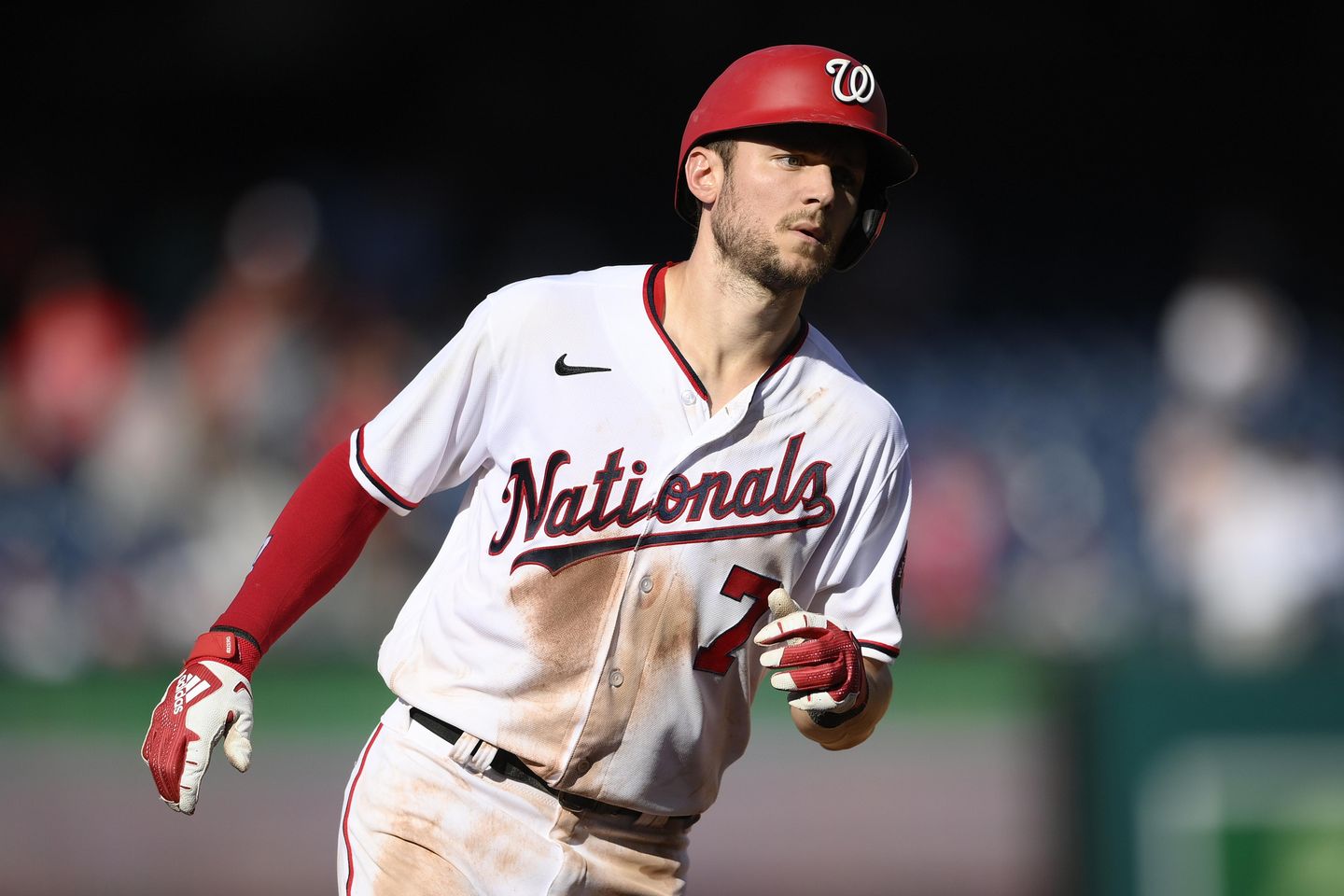 Trea Turner leads Nationals to win with cycle on her birthday
Trea Turner ran around the bases after hitting the ball down the right field line. When he dived in third, his helmet flew and Nationals fans erupted in excitement.
The sixth-inning extra-base hit completed Turner's third career cycle, this time on his birthday.
The 28-year-old shortstop tied the MLB record in cycles, leading the Nationals over the Tampa Bay Rays 15-6 on Wednesday at Nationals Park.
Turner finished the game 4 of 4 with four runs scored, a double, a triple and a home run.
Tampa Bay jumped to an early 2-0 lead in the first inning after Manuel Margot scored on a sacrifice fly by Randy Arozarena and Yandy Diaz hit a single 424-foot shot to left field.
The Nationals wasted no time responding with a pair of their own runs in the bottom half of the inning.
Turner singled with one out to right field and Juan Soto walked, setting up a double steal to put two runners in scoring position for Bell. The five-year veteran's two-run single to center scored Turner and Soto to tie the game.
Nationals starter Jon Lester came out of a jam in the second inning, sending Arozarena flying to right field with the bases loaded.
In the third inning, Mike Zunino took Lester deep, sending him down the left-field foul line into the seats, giving the Rays a two-run lead.
The Nationals responded in the bottom half of the third with a double and four straight singles to take a two-run lead. Soto and Bell hit back-to-back RBI singles to tie the game before Starlin Castro's bases loaded single drove in two more.
In the fourth, Arozarena hit an RBI double to right field, reducing Washington's lead to one.
Turner had yards for the second straight day on the first pitch he saw in the bottom half of the fourth inning, crushing the ball 400 feet into right field, extending the Nationals' lead to two. Jordy Mercer joined the home run party in the fifth with a single shot down the left.
Starlin Castro fired a 415-foot, two-run blast to right-center field to put Washington in the driver's seat, six up in the sixth. Josh Harrison added a two-RBI double in the eighth to bring the lead to nine.
Lester pitched five innings, allowing five runs and seven hits, walked two and struck out three for the Nationals.