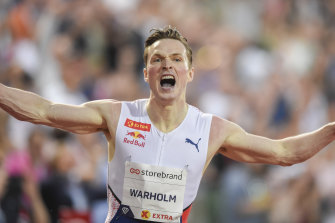 Sha'Carri Richardson tests positive for cannabis
Richardson was billed to run the 200 meters at the Stockholm Diamond League meeting in Sweden this weekend, but was not on the entry list for the race on the meeting's official website on Thursday.
Cannabis is banned by the World Anti-Doping Agency (WADA), but if athletes can show that their ingestion of the substance was not related to athletic performance, a three-month suspension is imposed instead of the usual four years.
If an athlete is willing to undergo an approved treatment program in collaboration with their national anti-doping body, the ban can be reduced to one month.
The Texan was aiming to become the first American woman to win the Olympic 100-meter title since Gail Devers in 1996 after posting 10.72 seconds in April, one of her five runs of less than 11 seconds this season.
A 30-day ban retroactive to the time of the adverse outcome could leave Richardson free to compete in the 4x100m relay at the Olympics on August 6, if selected by the USATF.
Richardson could also appeal any sanction to the Court of Arbitration for Sport (CAS), just like any other sports body that considers a punishment too lenient.
Meanwhile, Norwegian Karsten Warholm broke Kevin Young's 400m hurdles world record when he completed the race in 46.70 seconds in front of his home fans at the Diamond League meeting in Oslo on Thursday (Friday AEST).
Warholm surpassed the 1992 Olympic champion Young's mark of 46.78, which was set four years before the Norwegian was born and was the oldest record on the men's track.
Two-time world champion Warholm ran to an early lead and never gave up as he was roared all the way to the finish line, which crossed ahead of 2019 Pan Am Games champion Alison dos Santos by more than six-tenths second.
"I knew I had a fast time on my body," Warholm said. "It might take another world record to win the Olympics."
The achievement capped a string of strong performances at the Diamond League meet, where Australian Stewart McSweyn set a new Oceania record on the Svein Arne Hansen Dream Mile, renamed in honor of the former European athletics president who died last year.
McSweyn, who holds all Australian records between 1,500 and 10,000m, took the lead on the third lap and finished about five meters behind Marcin Lewandowski of Poland and Jye Edwards of Australia in third place.
"My season is heading in the right direction for the Olympics. I want to try to stay healthy by going to Tokyo. I still have some things to work on, "McSweyn said in quotes. reported in Athletics Weekly.
"The 1500m is going to be a very close competition, but I am confident to enter it. I considered doubling down with the 5000m, but the heats are too close together and I still don't feel strong enough for that.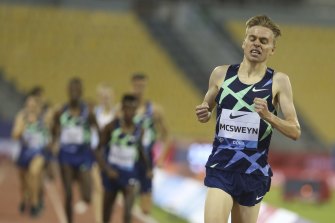 "I felt in good shape for tonight and this has shown it. I really wanted to do well for Svein. That gave more fire to get it right tonight. "
In field events, Australian world champion Kelsey-Lee Barber settled for third place in the javelin at 59.30m, while Germany's Christin Hussong won with 60.95m.