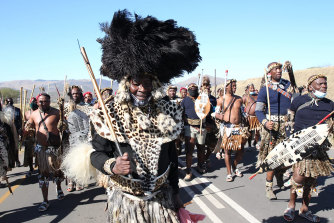 Jacob Zuma compares South African judges to apartheid rulers
"I fought and went to jail, so there must be justice and the rule of law. No honest person can accuse me of being against the rule of law, "he said.
Zuma's legal troubles have divided the ruling African National Congress between his side and that of his successor, President Cyril Ramaphosa.
Zuma gave in to pressure to resign and yield to Ramaphosa in 2018. Since then, he has faced investigations into allegations of corruption dating back to his time as president and before.
The Zondo Commission is examining allegations that he allowed three Indian-born businessmen, Atul, Ajay and Rajesh Gupta, to loot state resources and traffic in influence over government policy. He and the Gupta brothers, who fled to Dubai after Zuma was overthrown, deny any wrongdoing.
Zuma also faces a separate court case related to a $ 2 billion ($ 2.6 billion) arms deal in 1999 when he was vice president. Denies the charges.
Charging
On Sunday he reiterated his opinion that he was the victim of a political witch hunt and that Zondo was biased.
"Judge Zondo began to … treat me unfairly and with prejudice," Zuma said.
The 79-year-old man has asked the court to annul the sentence for being excessive and could expose him to COVID-19, which "would put him at greater risk of death."