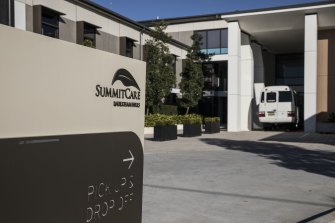 NSW COVID-19 Cases and Exposure Sites Increase; There are no new cases in Victoria; Brisbane out of lock
More residents at a Sydney nursing home tested positive for COVID-19 after an unvaccinated worker contracted the virus last week and attended the home while infected.
Two residents of the SummitCare home in Baulkham Hills who tested positive were transferred to Westmead Hospital as a precaution on Saturday, while a third was transferred Sunday afternoon. All three were reported by NSW Health on Sunday among 16 new cases.
On Sunday night, SummitCare sent an email to residents confirming that "two more residents" had tested positive and would be transferred. It's unclear if that means the total number of COVID-positive residents is now four or five.
In the email to families, SummitCare COO Michelle Sloane wrote that all COVID-19 positive residents "were resting comfortably and showing no symptoms."
While about 94 percent of the residents at the nursing home were fully vaccinated, only a third of the staff were protected, sparking outrage among some families.
Kathie Melocco, whose parents were taken to the hospital after her father tested positive, told 2GB Monday morning that families were not told that staff were not vaccinated.
"I am furious. I had assumed when Mom and Dad were vaccinated, and after all the problems we had in elder care, that the blow was given to staff at the same time.
"As a family, we have the right to know that they were not vaccinated," he said. "They are very up close and personal with their loved ones … it is impossible not to get the virus if you are positive."
She said her father was "incredibly distraught" yesterday, so she decided to speak up, but her biggest concern now is for other residents.
Comments have been requested from SummitCare.