The Philippines puts hopes of peace in the South China Sea in 'Angeles del Mar'
Manila: The Philippines is resorting to a new psychological ploy in an attempt to keep peace with Beijing in the disputed South China Sea: the reassuring and reassuring voice of radio operators.
Amid mounting tensions with China, the Philippine coast guard has trained a new unit of 81 radio operators, dubbed "Angels of the Sea," in hopes that the audio warnings will deter Chinese ship crews by evoking their wives and mothers.
The tactic was reportedly inspired by an incident on April 27 when seven Chinese ships pulled away from the Philippine-claimed Sabina Shoal after a verbal warning from a rookie coast guard officer, Gretch Mary Aquarius.
"At first I was nervous about stuttering," Aquarius said. "I was already on board and they told me to do a challenge over the radio. I was nervous but I had to. It is my duty."
Steeling himself, he warned unidentified foreign ships approaching his ship, the BRP Cabra, that they were entering the exclusive economic zone of the Philippines and had to identify themselves. Aquarius, who is also a lawyer, repeated the authoritarian challenge for the next 20 minutes, only to be met with radio silence. Then, one by one, the ships started their engines, raised their anchors, and pulled away from the sandbar.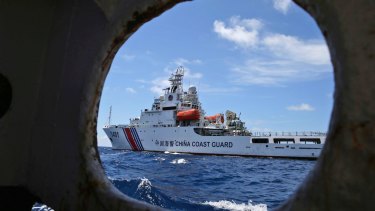 Since then, she has been named in the Philippine press as "the voice that drives away Chinese ships."
Aquarius said he didn't think it was his female voice that forced the withdrawal: "It was the real radio challenge. But it shows that women can be trusted to perform tasks and be on an equal footing with men. "
China is beefing up its presence in the strategic South China Sea, raising fears that it is working to take control of access to crucial global shipping lanes and expand its territorial claims.