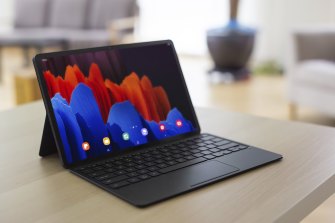 Some Android Tablets Are True iPad Competitors, If You Can Find Them
Android tablets are a dying breed and space is especially dire in Australia. The global category-leading brands, including Amazon and Huawei, simply don't offer their tablets here. Others, including Lenovo and Samsung, pick and choose which models to wear. But that doesn't necessarily mean that Android isn't worth considering if it's a great touchscreen device you're after.
Apple's iPad is the de facto choice for tablets, and the obvious alternative is a Microsoft Surface or similar Widows machine. To test if Android could support itself, I have been using Samsung's Galaxy Tab S7 +; a device with a specification as close to the iPad Pro as the Korean electronics giant could handle. It's a very impressive device that makes great use of Android 11, but it also shows why tablets like this are getting harder and harder to come by.
Starting at around $ 1,500, the 12.4-inch Tab S7 + is pricey, but it compares well to the competition when it comes to the spec sheet. It's a slim slate with an aluminum finish, an impressive 120Hz OLED screen, a stack of rear cameras (plus one facing forward), four speakers with Dolby Atmos, and a very powerful octa-core processor inside. Despite all this, you can run it non-stop for around eight hours thanks to a gigantic 10,090 mAh battery, and it lasts for days with conservative use.
Hardware-wise, it all meets or exceeds the larger iPad Pro, which starts at $ 1,649, and in many ways is similar in actual use. The incredible screen, speakers, and power make it ideal for gaming and video streaming, and there are also a plethora of ways to adapt it to a super mobile workstation.
It can be wirelessly paired with a Samsung phone or any Windows PC, connected to a monitor and accessories to function as a desktop computer, or attached to the keyboard cover (sold separately) to turn the tablet into a small laptop.
The benefit of Android is in the versatility and flexibility, and with a little effort you can customize the experience beyond what is possible with an iPad. But where Apple's device supports a rich ecosystem of creativity-focused apps, and the iPhone maker's keen eye for curation and streamlining, the app ecosystem here leaves much to be desired.
Samsung's own apps are very slick and make excellent use of the included stylus, which can be magnetically attached to the top of the device or stored on the back for charging. Google's offerings are, of course, solid, and Samsung has worked closely with Microsoft to ensure that things like Office run smoothly and that you can back up all your files to OneDrive.
But there is a notable shortage of big names when it comes to things like photo or video editing, or really any creative work. The likes of Adobe publish very basic versions of their products on Android, and there is an ocean of unknowns to test, but it all feels bad compared to iPadOS. Due to the great diversity of Android devices and the real or perceived unwillingness of Android users to pay for things, premium productivity software is hard to come by.