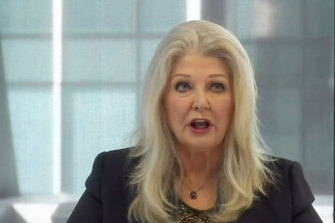 Crown chief Coonan says she was outnumbered in strategy
Crown Resorts CEO Helen Coonan says she had no choice but to accept the casino giant's attempts to hamper investigations into her negligence because she was outnumbered on the board.
Howard's former government minister told Victoria's royal commission on Thursday that she and the board were following legal advice when they adopted a defensive and unrepentant strategy in last year's NSW Bergin Inquiry, which determined she was unfit to have your casino license in Sydney.
The New South Wales investigation was set up to investigate reports under this headline in 2019 exposing that Crown had been infiltrated by organized crime, allowed money laundering and took enormous risks by doing business in China, resulting in the arrest and imprisonment of 19 employees there.
Coonan, head of the Crown since 2011 and president since February 2020, agreed Thursday that the board took its defensive position despite not launching a full investigation into whether the reports were true.
The attorney who attended the commission, Adrian Finanzio SC, told Ms Coonan that Crown had "girded its loins for a fight to defend the allegations made by the media."
"With legal advice, yes," he replied.
Ms. Coonan said she was personally concerned about Crown's aggressive approach to the investigation as it progressed, but her legal team told her it was too difficult to change strategy.
"I thought we had to take a very different approach, but of course I was rejected," he said. "You still have to have numbers on a board, even if you are the president."
"So it was put to a vote, right?" Asked Finanzio.