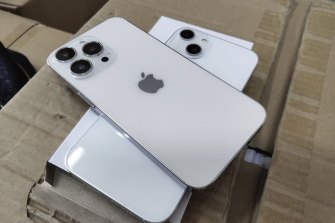 Don't spit the dummy, it's iPhone 13
Apple's latest batch of iPhones will almost certainly sport better cameras, better displays, and potentially a smaller "notch," but overall the iPhone 13 probably won't look that different from its predecessor.
The launch of an iPhone is still the most anticipated event in the mobile market and rumor mills are starting to generate curiosities months in advance. As in previous years, dummy iPhone units – empty cases created with the help of manufacturing experts and sold to case and accessory manufacturers – have started to appear in Chinese online markets and in the hands of journalists and analysts.
Together with the leaks and rumors, they give a good indication of the devices that we will see in two months.
Assuming Apple follows the naming conventions of the previous two years, 2021 will bring an iPhone 13 Mini, iPhone 13, iPhone 13 Pro, and iPhone 13 Pro Max, with screen sizes identical to last year.
But the design has been modified enough that the 2020 cases and accessories probably won't fit; the phones are a bit thicker, some buttons have moved slightly, the camera arrays are larger, and the non-Pro models now have diagonally arranged lenses.
Previous rumors have claimed that Apple will combine various elements of its Face ID system into a single sensor, allowing the "notch" that houses the front camera to be thinner.
Some fake cases and leaked display panels (used by screen protector makers) now seem to have backed that up, showing more display space on either side of the notch and the earpiece repositioned on top of the phone.
The rear camera lenses on the fake models are also physically larger than those on the iPhone 12, possibly validating rumors that improved image stabilization will be implemented for the wide lens on all iPhones 13 and on the ultra-wide one for the ones. Pro models.