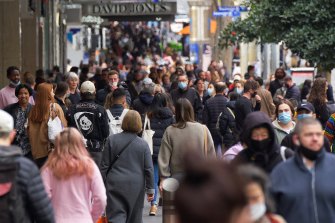 Melbourne is tough and can bounce back
Did you go to town today? Not long ago, around a million people would have answered yes to this question. Pre-pandemic, the city of Melbourne was the fastest growing municipality in the country, with a daily influx of workers, shoppers and tourists crowding to work and play in what was ranked among the most livable cities in the world. A large part of this daily migration was office workers, who came from the suburbs, spent between eight and 10 hours a day in the city, bought their lunch in city cafes and went out at night for dinner, a drink and sometimes a show.
The seismic impact of the coronavirus pandemic stopped this life form in its tracks. The crisis closed borders, brought public health orders to keep people home, and sparked a general malaise over the use of public transportation.
We adapt practically overnight to our new circumstances. Hundreds of thousands of people began to work at home and the city, which for many years had become a social, cultural and economic powerhouse, fell silent.
As we move into our second year of life with COVID-19, it seems increasingly likely that many of the changes that occurred so rapidly in 2020 are here to stay. Age reported Monday the results of a survey of the nation's 50 largest companies, a vast majority of which believe that a hybrid work model, in which time is divided between home and office, will endure long after the danger of the pandemic has passed.
There are differences in the degree of flexibility offered by companies, which together employ more than 1 million people in Australia. The technology company Atlassian, for example, requires its 5,700 employees to come to the office only four times a year, while the telecommunications company Optus opposes a "dial-up culture" for its 7,000 employees, asking them to work three or four days a week from the office with the premise that "co-location fosters collaboration and innovation."
The chairman of the nation's Productivity Commission, Michael Brennan, supports the hybrid model, saying he has seen "little evidence" of a drop in productivity as a result of working at home and "good reason for optimism" about this change. general. He says that the absence of a daily commute and the ability to juggle tasks from home can lead to an overall improvement in well-being.
Businesses are leading the way in this social change and Age believes that a permanent transition to more flexible work arrangements is inevitable and ultimately, for many, positive.
But we recognize that there are competing priorities and there will be winners and losers. Suburban cafes and shops can thrive on the additional population in their areas, while businesses and CBD owners who depend on city workers are under threat. What will happen to the floor spaces that large companies currently occupy, at high rents? How will your street life change if there is no longer a critical mass of population to feed the café and bar culture that has made Melbourne so vibrant?
While the trend has clearly been towards an emptier city, a Deloitte Access Economics report commissioned by Melbourne City Council projects that Melbourne will rebound to its pre-COVID-19 peak of approximately $ 74 billion in gross regional product for the second half of 2024.