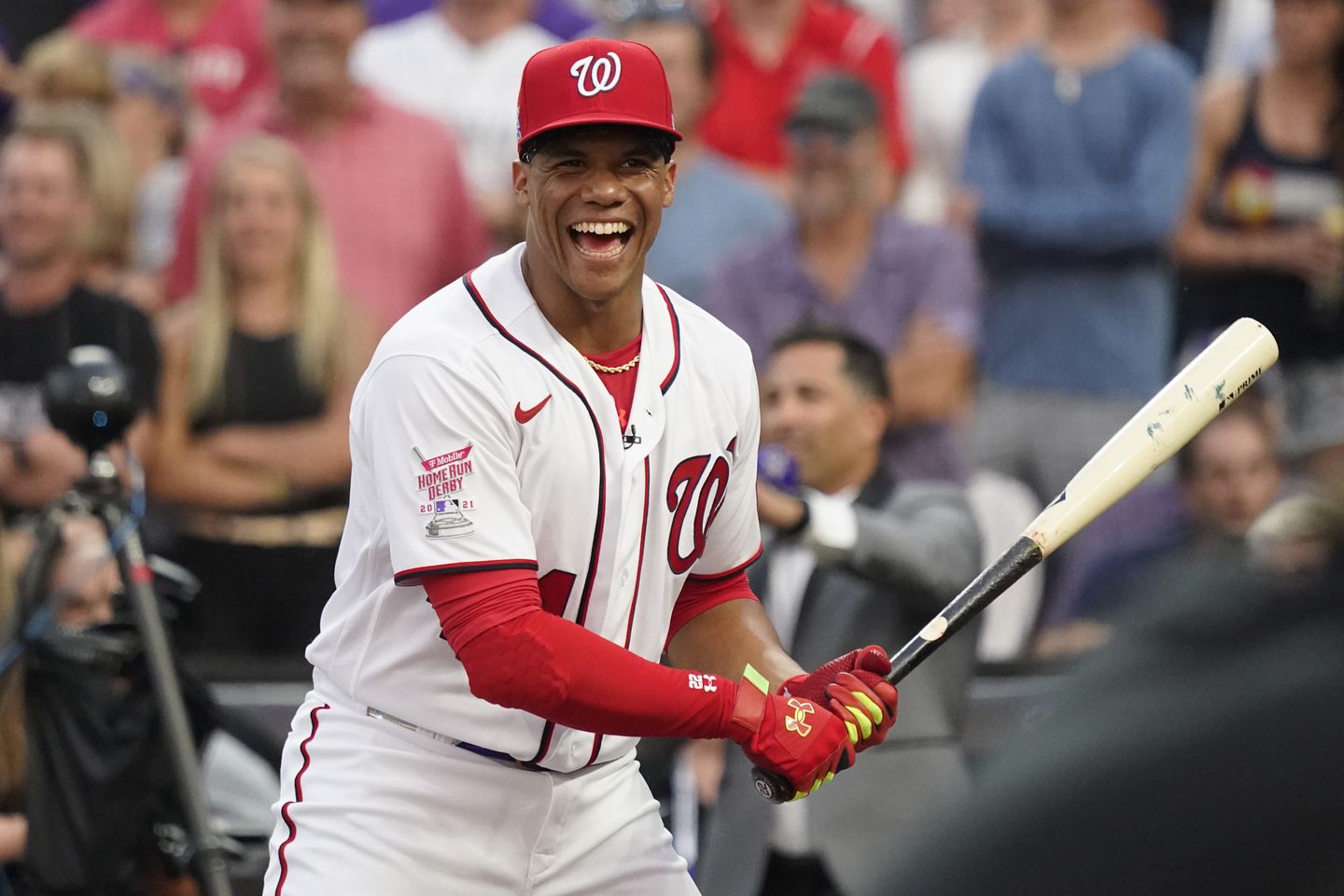 Juan Soto knocks down Shohei Ohtani in Home Run Derby before losing to Pete Alonso
Juan Soto stepped out of the box and raised a finger skyward, where his last blow of the first round was flying. And when that ball came out of the stratosphere and fell into the trees beyond the center field fence at Coors Field, Soto let out a yell and a punch, joining his Washington Nationals teammates in celebration.
Soto played a spoiler Monday night in the first round of the Home Run Derby, defeating favorite Shohei Ohtani, the dynamic two-way star of the Los Angeles Angels who has hit 33 home runs this season and also has a 3.49 ERA.
The duo put on a show early in the Home Run Derby, wowing a crowd in Colorado through a swing-off, with each batter getting three swings. Soto launched all three of his attempts out of the yard, pressuring Ohtani to respond. Ohtani came up short, his first swing crashing into the infield grass, to give Soto a first-round victory that required numerous additional swings.
At the end of the second round, a one-minute period in which both players hit six home runs, Ohtani and Soto shared an exhausted hug. They also met after the three hit sudden death round, to congratulate each other on a riveting Home Run Derby showdown.
"It was just great," Soto said on ESPN after the round. "He gave everything he has. I gave everything I have. Just go my way. It was a fun competition. "
Soto retired from the second round of the Home Run Derby against Pete Alonso of the New York Mets, who won the 2019 Home Run Derby and recorded 35 home runs in his first round on Monday. Soto appeared fatigued during that round, finishing with 15 long balls. But his confrontation with Ohtani was one of the most fascinating of the night.
Soto entered Monday's Home Run Derby with 11 home runs in 79 games during the first half of the season, and his 55% groundout rate is the highest of his career. While many hitters worry that competing in the Home Run Derby could negatively affect their swings, Soto felt the opposite, thinking that concentrating on hitting fly balls might be what he needs to ignite in the second half of the season.
Soto used a more upright batting stance than usual. He started the night slowly but quickly, with a 520-foot home run on the third floor. He sprayed balls all over the field, and during his time out, Padres star Fernando Tatis Jr. and Blue Jays slugger Vladimir Guerrero Jr. joined Max Scherzer, Trea Turner and Kyle Schwarber in give Soto some advice.
"They were like, 'Hey, take your time. You got it. Come on, man, '"Soto said on ESPN. "And I have it."
Soto did so, returning to the batter's box to throw 22 long balls until the end of the bonus round.
And while Ohtani entered with 33 home runs in the first half of the season, the Japanese star struggled to start. He hit two home runs after it had passed 1:20 in the first round. But Ohtani heated up at the end of the round.
In his bonus time, Ohtani threw four of his first five swings out of the park. His last attempt landed little, but he tied Soto's count of 22 with two home runs in the final 10 seconds. That set up the first swing-off competition, in which Ohtani and Soto hit six home runs.
And in the three-hit competition, Soto threw all three deep shots. His last deep into center field left him lifting a finger to the sky with a win over Ohtani.
"You just have to be calm, don't rush," Soto said. "Just trust yourself and try to hit the ball."
However, after two extra time against Ohtani, Alonso proved to be too much. There had already been so many Soto fireworks in the first round, leaving an impression on the Home Run Derby.
Sign up for daily newsletters