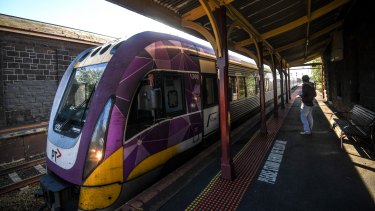 V / Line services in chaos after a power outage causes a second outage in a week
A major power failure in Melbourne's CBD forced the suspension of Victoria's busiest regional rail lines on Wednesday morning.
Some services were resumed a couple of hours later when bus replacements were arranged, but the network was still experiencing significant delays.
The outage is the second this week to affect V / Line trains after a network-wide communications failure shut down services on Monday.
The power outage occurred around 4 a.m. Wednesday and affected the building that houses the train control facilities, meaning that emergency communications systems were limited and several trains remained in position.
Coaches were replacing all V / Line train lines as of 6.30am on Wednesday, and passengers were encouraged to postpone all non-essential trips due to limited availability of coaches.
The main outage continued until about 7:50 a.m., when limited services began leaving and arriving at Southern Cross Station after train controllers moved to a backup facility.
Services were beginning to resume on the Geelong, Ballarat, Ararat, Maryborough and Seymour lines, but were still affected by significant delays.
Some services were also resuming in the Bendigo and Gippsland corridors. V / Line reiterated to passengers that they should postpone all non-essential travel.