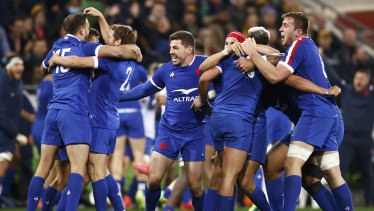 If test rugby can impress Eddie McGuire, the Wallabies must be doing something right.
In fact, the game helped spread the gospel of rugby in Melbourne. Yes, they already have the Rebels, but there is nothing like a Test Match to spark interest, and in the middle of the Tuesday night broadcast, I received a text message from Eddie McGuire, who was present, excited: "It's a great gladiator game. I love tradition and internationalism. Aust v France in Melb! Tribal suburbanism in AFL but with international component. It was wonderful to drive down the road and watch international sports on a Tuesday night! And even better, our Growing community of islanders has a game they know and love and hopefully take pride in playing locally. Good by all measures. And a spectacular boutique stadium to watch. Loved it. "
Get it? Getting Eddie McGuire excited about watching rugby in Melbourne is like getting Nick Politis or Wayne Bennett to express how much they love watching Aussie Rules in Sydney. The latter has yet to happen, but rugby is having an impact in the Victorian capital.
He scored well. Nine CEO (who owns this header) Mike Sneesby – LOVE THAT MAN! – has already revealed in the public domain that the streaming service Stan only had an audience of over 200,000 for the First Test, and I'm reliably informed that the Second Test did even more than that. On channel Nueve, free to air, it reached a maximum of 650,000, a good turnout. It sets you up for an even bigger turnout next Saturday night. Regardless of what's going on, the fact that rugby's paying masters are getting a return on their investment in the game means the blood will continue to flow.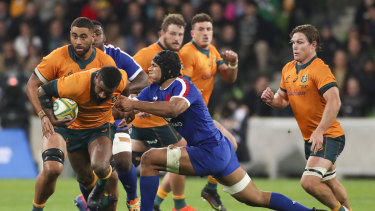 As for the bad stuff, the list is long. But surely it must start with the fact that our boys lost to a French team that was far from being in full power, the first time the French have won on our shores in 31 years. (And as a member of that team that lost the Third Test in 1990 in Sydney, having secured the series, let me just say they robbed us, STOLEN, I'm telling you!) Right now, if the Wallabies were to play the All Blacks, the fear has to be that the end result will look like a cricket match in which we fail to hit.
Charging
Other things.
We don't seem to have much of a kicking game. At the end of the game, we were ahead of the French in possession and territory, while they tripled us in meters gained in kicks downfield. As I said after Test One, as much as we all love the running game, having a guy who can corner you across the field when trouble looms is no small thing and not only can he convert a full game, Tuesday for the night did. exactly that, for the French. In fact, his defender Melvyn Jaminet not only beat him downfield, but also scored no less than seven penalty goals and a conversion to record 23 points for the match. If it was on sale at Bunnings, we'd buy five of it, wouldn't we?
Our scrum is not strong enough yet. With a minute to go in that match, with the good guys on the court to record a fabulous second win, we had an inning to our scrum, 40 meters away. The French pushed so effectively that our scrum disintegrated, allowing them to kick the winning goal. One way or another, we can't even think about thriving internationally if we don't have the cornerstone of a scrum capable of winning our ball 99 times out of 100.
Our backs lack penetration, Yes? With all the possession we had, you'd think we could have crossed the line five times instead of two per game broken. Much felt like throwing a tennis ball into a brick wall. The stronger they launched, the stronger the French tackled him. For the most part, our forwards gave them a lot of pill, but the backs just couldn't break them.
In sum? In short, this was not a game to put in a bottle and take out in 20 years. It wasn't even a step up the bottom rung of a ladder. At best, it was a relatively small step on the way back from the abyss. No "Hip, hip, hooray!" For that. Just a little rah! rah! and let's hope for a great result on Saturday night before regrouping.