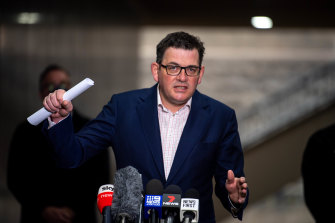 NSW COVID cases grow, Victoria COVID cases grow, SA COVID cases grow, Victoria lockdown extends, NSW lockdown continues, SA lockdown begins
Victoria's Prime Minister Daniel Andrews has defended the government's decision to tighten restrictions on issuing permits for people traveling to Victoria from a red zone.
He said that because people are not "locked in" in Greater Sydney, where there is a large outbreak of COVID-19, they must be "excluded" from Victoria.
As of 11.59 p.m. Tuesday night, the only people eligible to receive a permit traveling from a red zone are authorized workers and people who will need to apply for a compassionate exemption.
"I had to announce these red zone permit changes today, I'm not happy to do that, having told people that they want to go home for the best of reasons 'no you can't,'" he said.
"They are not locked up in Sydney, so they must be excluded from Victoria, that's the choice I had to make."
Andrews also said the controversial state "steel ring" policy enacted last year protected Victoria, and the rest of the nation, from the spread of the virus beyond state borders.
"I just remind everyone, we had a steel ring around Melbourne, last year, and it not only protected the country Victoria, it protected the whole country," he said.
"We don't want to get this outbreak under control just to see another outbreak, another incursion. It is never just about blocking, there is a wide range of other measures. "