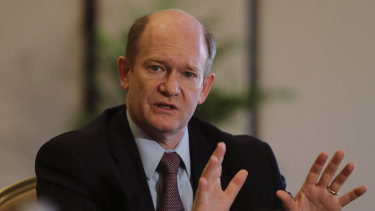 US 'border carbon tax' could affect Australian exports
"Despite the leadership of many US companies in reducing harmful greenhouse gas emissions, they will be left at a disadvantage as trading partners consider imposing carbon-related tariffs on certain products," Coons and Peters said in a statement. .
Charging
"Carbon adjustment at the border will raise billions of dollars to support communities as they adapt to increasingly severe weather events and invest in new technologies to eliminate greenhouse gas emissions."
The tariff would start in 2024 and apply to about 12 percent of imports entering the US.
Developing countries would be excluded from the tariffs, as would countries that are considered to have environmental policies "at least as ambitious" as the United States.
US environmental groups praised the Democrat's proposal, and the Collin O'Mara National Wildlife Federation described it as "visionary."
Danny Richter, spokesperson for Citizens' Climate Lobby, said: "This bill is particularly well synchronized with the publication of details on the EU's carbon border adjustment mechanism.
"The prospect of the world's two largest economies demanding accountability for carbon pollution at the same time should be cause for celebration for climate advocates everywhere."
Tehan said the European Union's plan for a similar carbon border tariff, unveiled last week, was a threat to Australian jobs and could be at odds with world trade rules.
"Our biggest concern is that we think it is protectionist," Tehan told ABC.
"We think it would be much better to incentivize countries to work on reducing emissions, rather than penalize them."
Tehan said he was concerned that such tariffs were more to increase government revenue than to reduce emissions.
"It is the technology that will provide the answers to reduce emissions, not taxes," he said.