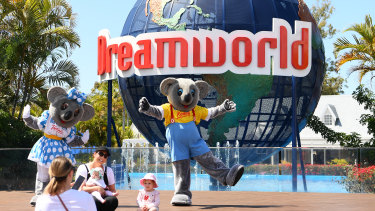 Dreamworld is now a contact location for the latest Qld case
A COVID-positive person visited the Gold Coast's Dreamworld theme park for hours last week, Queensland Health confirmed.
Contact trackers have been working to track down all potential links from a flight attendant who tested positive after working on several flights earlier this month.
Queensland Health does not typically connect contact tracing locations publicly to specific cases, however a spokeswoman confirmed that the results released on Friday, including Dreamworld, were from contact tracing conducted in the flight attendant case.
Dreamworld also confirmed in a statement that a person with positive COVID visited the theme park on Friday, July 16, between 10:30 a.m. and 2:00 p.m.
"Dreamworld's number one priority is the health and safety of guests and team members, and the park operates under a COVID-safe plan approved by Queensland Health," the statement read.
"Dreamworld team members who came into direct contact with the positive guest are being identified and asked to immediately isolate themselves and test negative before returning to work."
The Dreamworld case is considered relatively low risk and is listed as such on the list of contacted tracking sites.
Despite that, anyone who was at Dreamworld that day is being contacted and asked to monitor their health and symptoms to get tested, in line with the lowest level of tracking alerts.