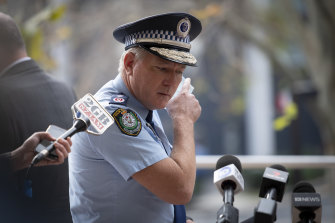 COVID cases in New South Wales continue to grow; Victory on the way to alleviate the confinement
New South Wales Police Commissioner Mick Fuller says the protests against Saturday's lockdown were the worst display of violence the state has seen since the Cronulla riots in 2005.
He said there have now been around 6,000 reports to Crime Stoppers from "outraged" members of the public who helped track down the roughly 3,500 people who violated coronavirus restrictions by attending.
Some 63 people have already been arrested and another 90 have imposed fines for their participation in the protests.
"Even I was surprised by the level of violence," Fuller said on 2GB radio station.
Loading
"The strike force we have established is probably the largest since the Cronulla riots in terms of making sure we hold these larvae accountable."
Around 500 police officers and members of the riot squad were on foot, by bicycle and on horseback with dramatic footage showing attendees beating a police horse and throwing potted plants, paint and water bottles at officers.
Prime Minister Scott Morrison has condemned the protesters' behavior, as has opposition leader Anthony Albanese. This morning, the federal Labor leader said the protesters were "irresponsible" and "reckless."
"It could well be a super spreader event," he told the Today Show.
In Melbourne, thousands also took to the streets over the weekend for a demonstration called "freedom." At least six people were arrested and the Victorian police issued more than 70 violation notices.