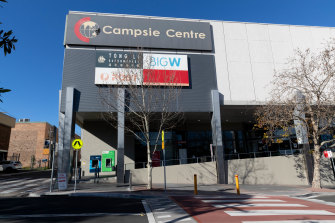 Two-day delay between NSW health alert and Campsie Center COVID advisory
There was a 24-48 hour time lag between NSW Health alerting the public to COVID-19 cases reported at two stores in Campsie and the mall's management sending out an earlier alert.
Health authorities have concluded that several people he had contracted the virus at the Campsie Center shopping mall in south-west Sydney.
Campsie Center management notified all retailers and staff at its complex on Amy Street on Tuesday, July 20, of the need for "urgent action" after staff at Tong Li Supermarket and Breadtop tested positive for COVID-19. .
The management of the shopping center said that everyone in the center during the last days should be tested "as a matter of urgency."
"At this time we have not heard anything from the Health Department, contact trackers or anyone else," the notice read. "However, considering the virulent nature of the Delta strain of COVID, we suggest that everyone in the center during the last few days get tested as soon as possible.
"If this means your business has to shut down for a day or more, go ahead."
A Campsie resident said he was concerned that the NSW Health alert on Breadtop-related cases would not be released until 24 hours later, on Wednesday, July 21, and that NSW Health did not report the second case at Tong Li supermarket until 48 hours. hours later Thursday, July 22.
He said the contact tracing system appeared to be "breaking down under the stress and volume" of cases.