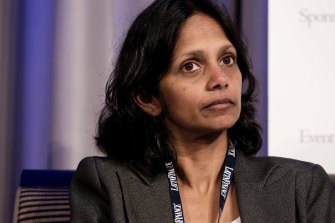 Macquarie cuts dividend payment target
Macquarie Group is slashing the amount of earnings it will try to pay out in dividends as the investment banking giant sees growing opportunities to deploy its billions in excess capital.
Ahead of Macquarie's annual general meeting in Sydney on Thursday, the bank reported a strong rebound in earnings during the June quarter, compared to a period affected by COVID last year. It also lowered its target dividend payment rate range from 50 to 70 percent, from 60 to 80 percent previously.
Chairman Peter Warne said Macquarie had invested $ 3.8 billion in equity over the past nine months and that lowering the repayment rate would give the banking group greater flexibility to pursue investment opportunities.
"It really just reflects the opportunities available," Warne said in a call with reporters. "Given our prospects, we see more opportunities in the coming months."
In a quarterly update, Macquarie said that the profits of its key divisions increased significantly in annual terms, as they benefited from lower provisions for bad debts and much higher income from operations and investments.
Commenting on the national economy, Executive Director Shemara Wikramanayake said the risk of lockdowns in Australia would remain for several more months, due to the country's low vaccination rate.
"Unfortunately, I think in Australia, until we get a much higher vaccination, we will have to deal with possible blockages," said Ms Wikramanayake.
"Our view is that we should have sufficient vaccination by the end of this calendar year in the Australian population."
The business update, which did not provide full earnings details, said its divisions' contribution to net earnings increased "significantly" compared to the same quarter last year, which had suffered from "mixed" business conditions.