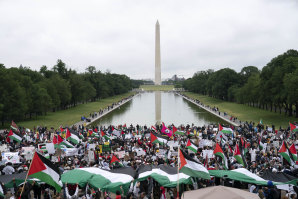 Held abroad, brutalized in their homeland
The protest that Safi and her colleagues were being punished for was sparked by last month's protest. murder of a Palestinian activist, Nizar Banat, at the hands of the Palestinian Authority security forces.
On June 24, the Palestinian security forces took Banat from his bedroom in the middle of the night, beat him and detained him. He died hours later in their custody. A autopsy revealed that he was "beaten on the head, chest, neck, legs and hands, less than an hour elapsed between his arrest and his death." Banat's family accused the authority of murdering him and covering him up.
For Palestinians in Palestine and around the world, it was a slap in the face at a time when they were finding a new unity of purpose by resisting Israel's war in Gaza and its evictions in the Jerusalem suburbs of Sheikh Jarrah and Silwan.
Loading
Israel itself could not have done a better job of deflating that spirit of unity. Rather than holding those responsible for Banat's brutal assassination accountable, the Palestinian Authority responded to the growing wave of protests with more brutality.
After mounting internal and international pressure, Palestinian Authority Justice Minister Mohammed al-Shalaldeh admitted on July 1 that Banat was subjected to physical violence and that his death was "unnatural", but insisted that it was about of an "exceptional case". The then Minister of Civil Affairs Hussein al-Sheikh issued a sorry for the murder, calling it a "mistake." The apology did not set out any steps to hold the perpetrators to account, just some rhetoric about learning from what happened and moving on.
Protests against authority have been slow in coming. A by-product of the Oslo Accords, the authority was intended to be a government structure, not a liberation movement. Their appointments as ministers and ambassadors did not prevent Israeli bulldozers from destroying Palestinian homes, Israeli settlements from expanding or bombs falling on the people of Gaza.
After 20 years of failed rule by authority, Palestinians have come to understand that what is needed is not a government structure under occupation, a powerless facade of democracy. What the Palestinians desperately need is resistance to all forms of oppression, including oppression from within.
Anyone who thinks that the sole responsibility for this descent into authoritarianism rests with the President of the Palestinian Authority, Mahmoud Abbas, is delusional. The real problem is the existence of such authority under an Israeli occupation by colonialist settlers and a security apparatus subordinate to that occupation.
The authority lacks control over basic life, its democratically elected legislative council cannot hold meetings, address labor rights, or make decisions about its budget and infrastructure because all of this is under Israeli control. The only control the Palestinian Authority has is over the Palestinian people. Tasked with policing the occupation and safeguarding Israeli interests through security collaboration, the authority has been trained to direct its weapons against its own people.
Perhaps the most damning of his failures is harnessing the power of the Palestinians at home and abroad. We have seen this power. It marched on the streets of Sheikh Jarrah and drew a great deal of support around the world. In May, we saw 200,000 people march for Palestinian rights in London, tens of thousands across the United States and even here in Australia, on the other side of the world, 15,000 marched in Melbourne on May 22.
I remind myself of this power as I reread Shatha Safi's tweet. The Palestinians are mobilizing against all forms of oppression. And the absence of the Palestinian Authority at these rallies tells me that the days of its oppression are also numbered.
Samah Sabawi is a Palestinian-Australian playwright, commentator and poet.