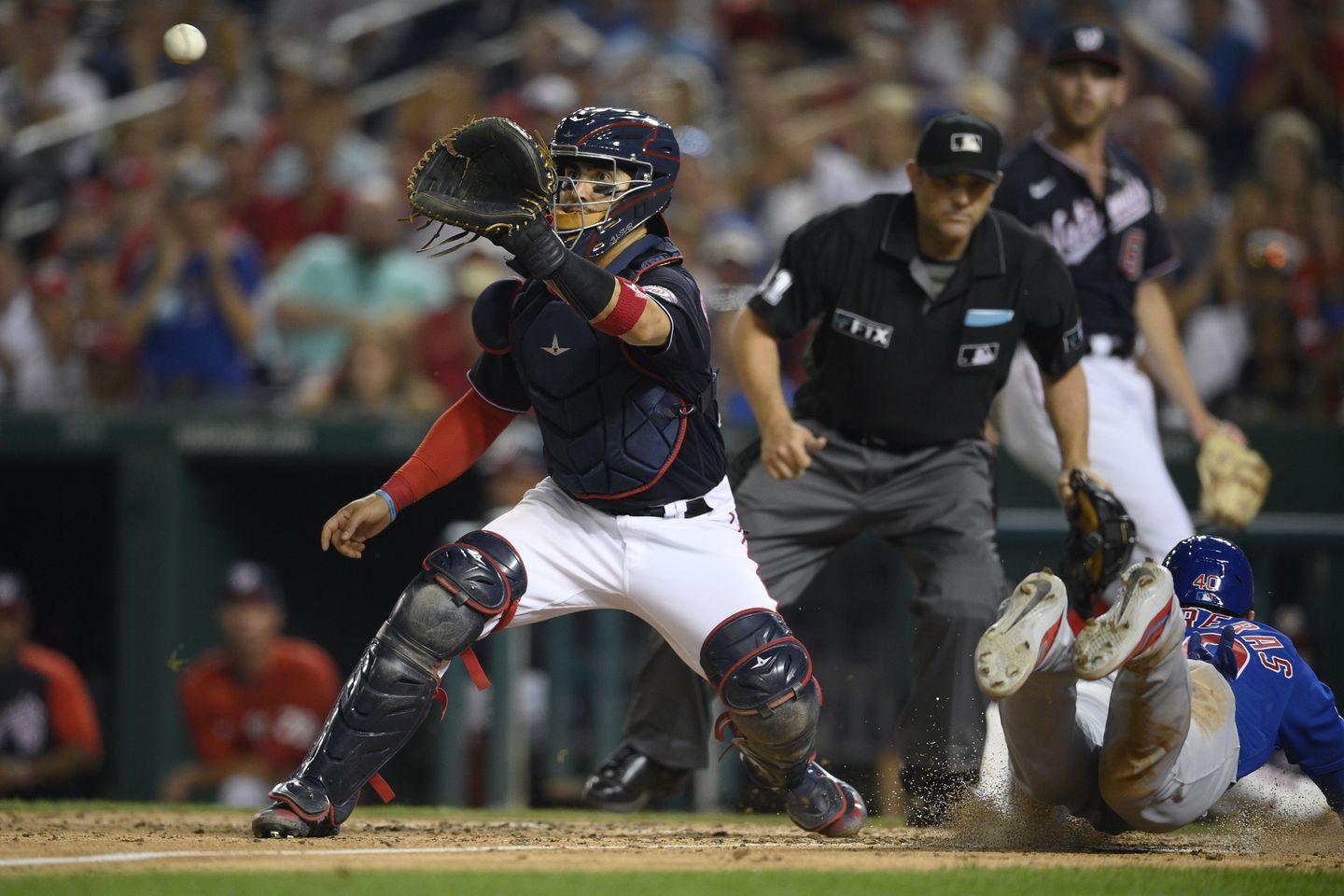 Time for national prospects is now after trade deadline settlement
Perched atop the Shake Shack post beyond the right-field fence, a photo of Max Scherzer still observes everything that happens in Nationals Park. His eyes, one brown, one blue, still stare with the intensity that he showed every day since his arrival in Washington in 2015.
Then, on a drenched and sleepy Sunday morning in Nationals Park, two days after the trade deadline closed and eight Washington veterans, including Scherzer, left for other teams, Scherzer's face looked to the future of the teams. Nationals. He saw right-hander Josiah Gray, one of the prospects received in a trade with the Dodgers, warming up in shallow right field.
Gray makes his Nationals debut Monday night, kicking off what Washington hopes will be a long and successful tenure in D.C. He will do so with reminders of what the Nationals lost hanging around the park, most poignant with the eyes of two. Shades of Scherzer looking forward to what Washington reaped in exchange for a direct sale on the trade deadline.
When fans filter into Nationals Park during the final two months of the season, their eyes will also be on the young players suddenly catapulted into the starting lineup of a team planning for the future. This was not how Washington envisioned the season playing out. But for those who benefit from the liquidation, these past two months could go a long way toward cementing their place on the team for years to come.
"At this level of competition, you have to take advantage of these opportunities," senior statesman Ryan Zimmerman said of an increasingly younger clubhouse. "They don't come very often."
Since 2012, general manager Mike Rizzo has built a winning list now built around veterans seeking postseason success. But as Friday's trade deadline approached, the reality of the Nationals' plight in 2021 became clear: They weren't in a position to advance into the playoffs, even in a poor NL East.
So Rizzo opted to sell, sending Scherzer, shortstop Trea Turner and others for 12 prospects. Gray and catcher Keibert Ruiz are the top two returns, both coming from the Dodgers in exchange for Scherzer and Turner. While Gray will receive an immediate call and start on Monday, Ruiz will start at Triple-A Rochester.
But Ruiz could soon follow Gray to the big leagues, and right-hander Mason Thompson, part of the comeback for sending reliever Daniel Hudson to the Padres, is already in Washington. Carter Kieboom and Luis Garcia have become everyday players, and reliever Gabe Klobosits made his MLB debut on Friday, then followed up with a scoreless inning during Sunday's 6-5 win.
Catcher Tres Barrera said he, Kieboom and Garcia would talk about one day playing in the big leagues together. His time has come, and Barrera said, "it is an opportunity, an opportunity to show that we belong." Others will have that opportunity too, with more prospects on the way once the expanded rosters roll in for September.
"We are excited to have these guys," Martinez said. "We have some really good young players, guys that we think will help us in the future, some in the near future."
The present can be bumpy, even as Martinez emphasizes his distaste for losing. As the dust settled on Friday night Washington ran out of 4-3 winners against the Cubs, another seller of the trade deadline. But a loss Saturday before a homerun on Sunday showed that no amount of chagrin over losses can rule them out entirely, especially after trading eight players.
Yet this is where Washington stands, a team two years away from a World Series now looking to quickly readjust for another career.
"When you are a buyer or not a seller on the trade deadline for basically the last 10 years, I mean, your minor league system is very depleted," Zimmerman said. "He won us a World Series, so I don't know why anyone is complaining. … But we needed to restock, and we had to bring in some young talent. Some of those young talents are going to emerge now, and I'm excited to see them play and see them have a chance. "
That young talent will be on display at Nationals Park for the remainder of the summer, setting the stage for future summers with his images hung on banners around the park. But for now, as a new era for Washington begins, they will do so with Scherzer's uneven eyes peering from beyond the right-field fence.
Sign up for daily newsletters