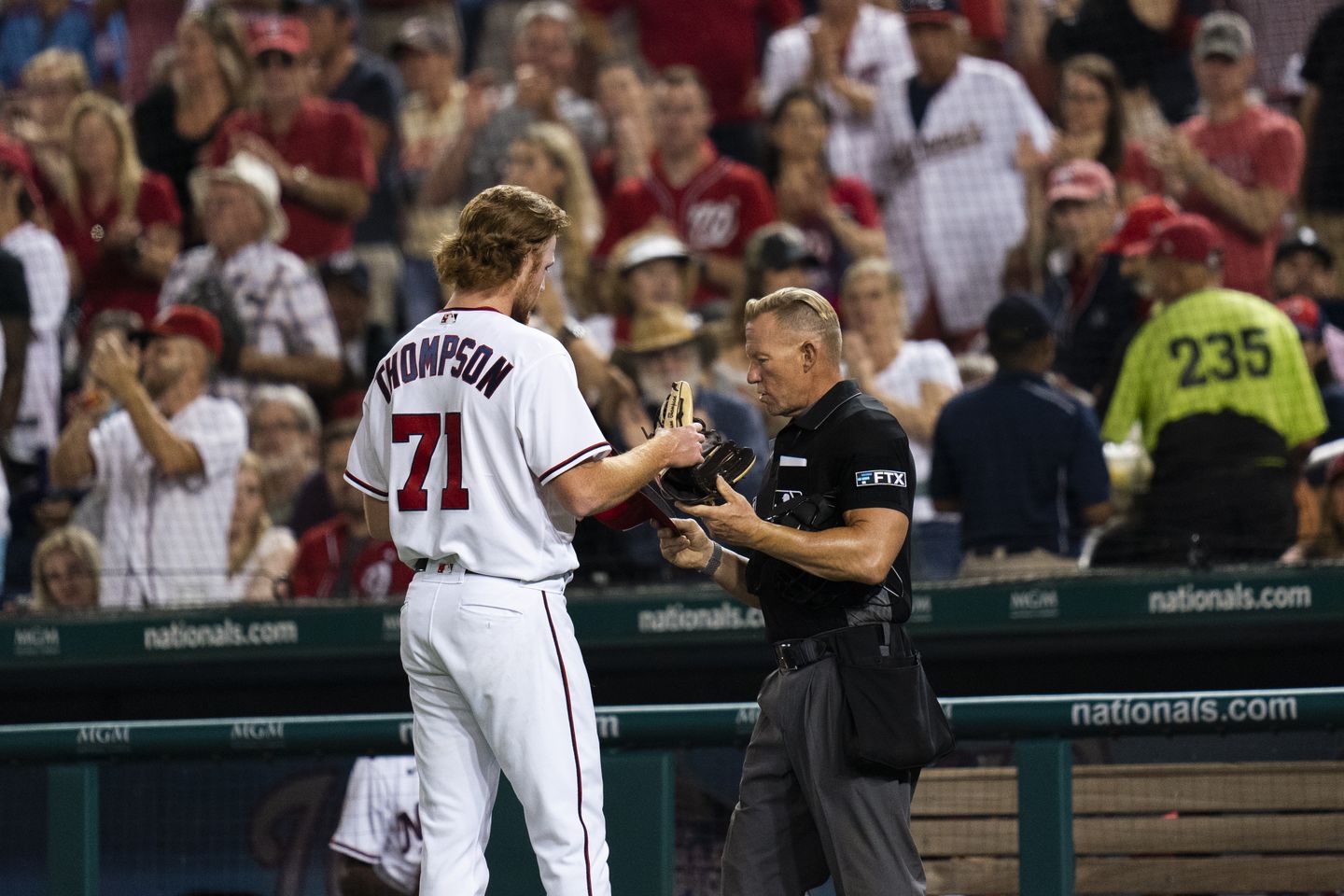 Future: Coming soon to Nationals after the influx of 12 prospects
As the Washington Nationals pushed for a second-half lead for most of the past decade, trade deadline buying steadily destroyed the organization's agricultural system.
But with the Nationals seemingly out of playoff contention this season, and with several veterans on expiring contracts, general manager Mike Rizzo decided to revitalize the team's pool of prospects. That required trading eight veterans for a series of prospects that immediately improved the farming system.
Based on MLB Pipeline rankings, 10 of the organization's top 30 ranked prospects joined last week on the trade deadline, a testament to the rapid rejuvenation of young talent on a team that has in the past sent such prospects to veterans in a victory. now come closer. The top two prospects in the standings were received from the Los Angeles Dodgers, in exchange for right-hander Max Scherzer and shortstop Trea Turner.
Here's a look at the 12 players the Nationals received in exchange for their veterans at the deadline – some of them are already at the Major League level, while others could follow soon.
Keibert Ruiz – Catcher – No. 1
When Rene Rivera went on the disabled list Tuesday, the Nationals could have called up Keibert Ruiz, their top-ranked prospect. Instead, manager Dave Martinez wanted Ruiz to play every day at the Triple-A level, setting him up for an eventual call-up.
Ruiz should arrive in Washington before the end of the season. He's hitting .310 at Triple-A this season, and he homered in his first game for Rochester.
Josiah Gray – Right-handed – No. 2
Josiah Gray was the second headliner included in the Scherzer-Turner deal, and he's the second-ranked prospect in the Washington farm system. However, unlike Ruiz, Gray was immediately brought to Washington and started Monday night, pitching five innings and allowing one run.
He's seen as the future of the Nationals' rotation, with an animated fastball and the breakout pitches to back it up.
Gerardo Carrillo – Right-handed – No. 10
Gerardo Carrillo was another part of the box office success that sent Scherzer and Turner to Los Angeles. He wasn't as prominent as Gray and Ruiz, but the right-hander increases Washington's depth of pitch, though his 4.25 ERA in 59 1/3 innings this season on Double-A ball isn't surprising.
Still, he could be promoted to the majors in early September once the expanded rosters go live. Otherwise, the 22-year-old could be seen next season.
Aldo Ramirez – Right – No. 11
Aldo Ramirez is the right-hander the Nationals received from the Boston Red Sox in exchange for left fielder Kyle Schwarber. Ramirez will likely not make it to the majors for a few years (MLB Pipeline projects he will arrive in 2023) because the 20-year-old reported to Washington's rookie affiliate.
Ramirez has a 2.03 ERA in eight Single-A starts this season, and he's sporting a sharp turnaround to accompany a mid-1990s fastball.
Riley Adams – Catcher – No. 13
When the Nationals chose not to call Ruiz immediately after Rivera was injured, the team chose Adams. He is known for his power and ranks 13th in the Washington agricultural system.
Adams came from the Toronto Blue Jays in exchange for closer Brad Hand, and hit .487 this season for the Blue Jays' Triple-A affiliate. Adams will split time with catcher Tres Barrera for the foreseeable future, but could return to the minors once Rivera is healthy.
Mason Thompson – Right-handed – No. 16
The Nationals signed right-hander Mason Thompson as part of the San Diego Padres' return to reliever Daniel Hudson, and the 23-year-old was activated to the Major League Baseball roster shortly thereafter. He made his debut for the Nationals on Monday.
The 6-foot-7 Thompson throws his sinker frequently and also has a slider in his repertoire.
Drew Millas – Catcher – No. 24
Drew Miles was the third receiver Washington acquired at the trade deadline, addressing what appeared to be an organizational need. He reported to High-A ball and is expected to hit the majors in 2022, according to MLB Pipeline.
Miles is an ambidextrous backstop hitting .255 this season with three home runs and 28 RBIs. He also has 10 stolen bases, an unusually high number for a catcher.
Donovan Casey – Outfielder – No. 27
Acquired as the final piece in the Dodgers deal, Donovan Casey is a 25-year-old player who plays Double-A ball. The 6-foot-2 outfielder is projected to arrive in 2022, and he's hitting .298 with 15 steals and 11 home runs in 74 games this season.
Jordy Barley – Shortstop – No. 28
The last time the Nationals traded for a Padres shortstop prospect, it worked out well. That was Turner. Barley is another intriguing prospect to look at.
He currently plays Single-A and may not arrive in some seasons. However, the 21-year-old has a lot of speed (35 stolen bases) and is hitting .246.
Richard Guasch – Right-handed – No. 30
Richard Guasch is on the High-A ball with an estimated arrival of 2023. He joined Millas and Seth Shuman as part of the return in the trade that sent Josh Harrison and Yan Gomes to the Oakland Athletics.
Guasch has a 4.67 ERA in 54 innings with a 1.54 WHIP.
Seth Shuman – Right-Handed – Unclassified
Seth Shuman completed the deal with the Athletics, although he is not classified. The 23-year-old played for Georgia Southern and has a 2.25 ERA in 13 appearances (11 starts) at High-A ball.
Lane Thomas – Gardener – Unclassified
Washington traded left-hander Jon Lester to the St. Louis Cardinals for Lane Thomas, a 25-year-old who is unqualified because he exceeded rookie limits.
In 32 games for the Cardinals this season, Thomas is hitting just .104. However, he could figure things out and take into account the Nationals' plans going forward.
Sign up for daily newsletters