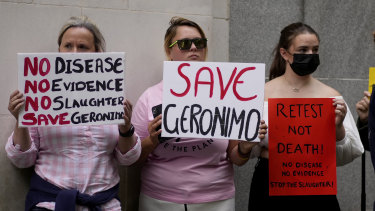 Gerónimo the alpaca's death sentence shakes Great Britain
"While I am sympathetic to Ms. Macdonald's situation, we must follow the scientific evidence and euthanize the animals that tested positive for tuberculosis, to minimize the spread of this insidious disease and ultimately eradicate the greatest threat for animal health in this country. "
Middlemiss argues that the chances of a false positive from the Enferplex test used at Geronimo are less than one percent, but Macdonald and his followers disagree and want a different third test.
"I am concerned about what happens when Geronimo faces strangers and how his last moments might end if they come here," Macdonald said.
When asked what he would do if the executioner came, Macdonald said Monday: "I am not breaking the law, but at the end of the day I am not going to help you execute my perfectly healthy animal.
"My mother is 84 years old on Monday and last night she asked me if indeed she was going to have the firing squad here on her birthday."
More than 104,000 people have signed a petition to forgive six-year-old Geronimo. A small group of protesters also marched to Downing Street on Monday to make their case, but the prime minister's spokesman said Johnson would not intervene. "The fact is, Geronimo has unfortunately tested positive twice with a highly specific, reliable and validated test."
Stanley Johnson went on the air to urge his son's cabinet to reconsider, arguing that Geronimo seemed "healthy like everyone else" years after his diagnosis and had not infected other alpacas.
"This is an animal that four years later is still healthy, it still survives. It can't be right not to do one more test, "Johnson told GB News on Monday.
The last known case of bovine tuberculosis in Australia was recorded in 2002, and the country is one of the few in the world that has eradicated the disease.
Pressured by the Geronimo case, Environment Secretary George Eustice wrote an opinion piece for the Mail on sunday in which he said that his family knew that the joy and optimism of farming were often tainted by tragedy and loss.
"A few years ago, our herd suffered from several tuberculosis crises," Eustice said. "Among them was Rose, a cow that my father said was one of the best he had ever seen. To make matters worse, she had sadly lost her calf the year before. As a result, she had to be moved to the slaughterhouse, as she never had a live calf. It was devastating. "
But Eustice said that an average of 500 head of cattle were destroyed each week in England alone due to the infection.
In the absence of an intervention from the prime minister, Geronimo seems destined to join them.