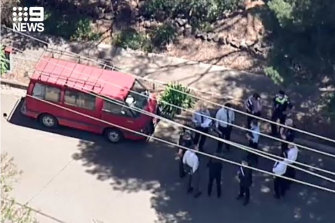 Murderous 'controlling' mother, 82, planned her son's funeral a week before the murder
An elderly woman who admitted to murdering her son also arranged his funeral weeks before she beat him and suffocated him in the home they shared, court documents reveal.
Erica Heddergott, 82, appeared in Melbourne Magistrates Court on Wednesday and pleaded guilty to the murder of her son William in November last year at her home in Greensborough. A summary prepared by investigators says he struck his 50-year-old son with an ax and put a plastic bag over his head.
A Meals on Wheels worker found a key in the front door on November 16 and discovered the body of Mr. Heddergott and his mother on the floor, conscious and initially unable to speak. He had tried to end his life.
When the worker said that an ambulance was coming, the old woman replied: "I don't want them."
The worker also discovered a note titled "Goodbye" and dated November 14, in which Heddergott thanked her husband for their life together and apologized for the pain he would feel. The husband was staying in a nursing home, says the summary.
The note also read: "Time is up and I apologize for all the loose ends and work I left."
Police say William Heddergott suffered from severe anxiety and depression and had previously lived in a supported residential facility, where staff described him as a kind and caring man who never got angry. He had returned to live with his mother during the COVID-19 pandemic.
Police also wrote that Erica Heddergott was "very controlling" of her son, limiting his "behaviors outside the family home and reducing his independence."
In the weeks leading up to the murder, Erica Heddergott contacted a funeral home to finalize her son's funeral arrangements, although she had not paid for the service. In September and October of last year, she also contacted her son's retirement company in an attempt to cancel his policy and withdraw the funds.