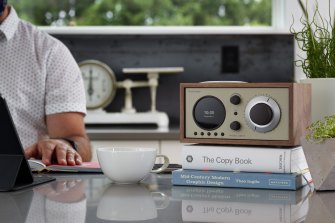 Forget Wi-Fi, the radio lives
For people who prefer to get their audio entertainment over radio waves, rather than the Internet, quality options are becoming quite scarce. However, there is still life in radio, as I discovered by testing Tivoli Audio's latest retro-inspired wood panel tabletop unit, the Model One +.
I'm usually used to playing all my music over Wi-Fi on multiple speakers in the house, and that includes any radio station you can think of, so I didn't really understand the appeal of a device that costs at first. as much as a smart speaker does a lot less.
But while the Model One + may not be for me, there is clearly something of value here for anyone looking to replace a home radio. It's easy to use and sounds good, offers more options than a standard wireless connection thanks to DAB + digital radio and basic connectivity to external devices, and you can access all functions with the dials on the front of the device or the control. remote included; no apps or Wi-Fi needed.
The first thing you'll notice is the huge old-school tuning dial. Like the other dials, it only pretends to be analog, and there are no needles or panels full of frequencies and labels, but I appreciate that the internal mechanism rotates slower than the main dial, as in some older hi-fi systems.
After pressing the "scan" button to add your local DAB + stations, the dial allows you to scroll through them in alphabetical order. For me it was over 70 stations so it's a bit tricky to navigate, but you can store up to five favorites by holding down one of the preset buttons.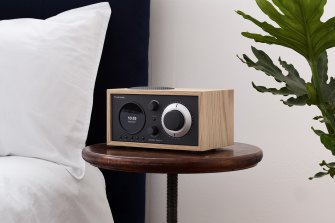 If you are not familiar with digital radio, you may think of DAB + as something similar to modern digital television stations; there are more of them than older analog stations, they sound better, they don't need to be tuned, and they have some added benefits like song names displayed on the device. Most of the major FM stations also broadcast on DAB +, but there are also many niche and genre-specific stations. Importantly, unlike Spotify, you don't have to pay for DAB + and it doesn't use your internet connection.
The Model One + also has FM radio and everything works the same way, although you're obviously turning the dial through the frequency spectrum rather than a collection of digital stations. You get a different set of five presets here, which is good because it means 10 favorites in total, but also annoying if you like a mix of DAB + and FM stations.
I was impressed by the audio from the top speaker, which is very clear and can get quite loud. It may be a bit bright and doesn't have a huge impact on your bass (I didn't notice much of a change after playing with the simple built-in EQ), but it will fill a small to medium room with a nice sound or good. -Defined voices.