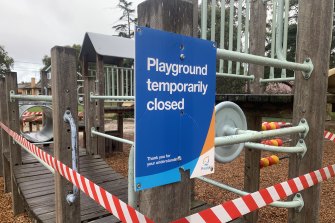 Leaders must build support for our collective effort against the virus.
At this time last year, Melbourne was turning a corner. Cases across the state fell from an early August peak of more than 700 a day to a low of 200, en route to what we call, in our new COVID-19 parlance, "double donut" days. When those days came, there was relief, complacency, and an unspoken expectation that together we had overcome the worst.
How can we find ourselves back at a point where health director Brett Sutton describes us as "right on the brink" of yet another explosion of cases? The slow launch of the vaccine by the federal government is an obvious problem, but as we know from experiences abroad, the coronavirus has its own terrible pace, frustrating our hopes for a return to cultural, sporting and social life.
For the state's opposition, it is the Andrews government's new lockdown restrictions on the use of the playground and its curfews that are cruel. Opposition leader Michael O'Brien and some experts have argued, last year and now, that there is a lack of evidence that curfews slow down broadcasting and Age it has previously questioned a measure so harsh that other states have not deemed it necessary. Other experts besides Professor Sutton argue that curfew is part of a set of measures, so assessing its contribution to our overall progress in fighting infections is difficult.
We remain skeptical of such a draconian measure when the evidence is so sparse. Talking to AgeEpidemiologists Catherine Bennett of Deakin University and Nancy Baxter of the University of Melbourne School of Population and Global Health saw the importance of the curfew in terms of messages rather than medical effects. "Clearly people are too relaxed right now," said Professor Bennett. "It's about what the government thinks is necessary to get that message to the people that the harder we do it, the shorter the blockade."
Many Melburns would say that some people's behavior is less about being laid-back than fatigue and a law of diminishing returns of lockdown crash tactics. There is more resistance and resentment and the rollback of the curfew is both symbolic and substantive.
What also needs to be said is that while the restrictions are identical to a year ago, the virus itself has changed. It's clear that the Delta variant has made the end of our recurring crash nightmare harder to see. It has also forced us to rethink what we knew about transmission and its consequences, including transmission by children. Any government faced with this altered landscape will seek to return to the most effective approach it can remember.
Loading
As another epidemiologist, Mike Toole of the Burnet Institute, put it in this headline, "We know that [last year's hard lockdown] worked. "In general, as horrible as they are, Age supports the tightening of restrictions as a short and sharp measure to control this outbreak. The alternative is the current crisis in New South Wales, where measures were too slow and too flexible for many weeks.
Now two things are crucial. O'Brien spoke of the government not having "a plan to deal with the culprits" in the current outbreak. Professor Sutton also noted that "there have been people breaking the rules, putting us all at risk." The enforcement of the rules by the authorities is, of course, vital. But we did not defeat the virus last year through punishment and blame; we overcome it with collective effort. At this stage it is also vital that leaders establish what the future looks like and how we intend to get there, and build support for that.