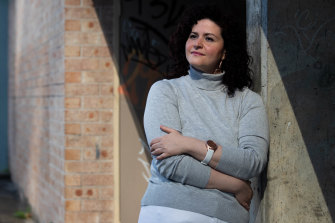 the confinement brings back traumatic experiences for refugees
Syrian refugee Najla Sbei became an Australian citizen on her 40th birthday, a day she hoped would mark the end of the uncertainty and anxiety that haunted her since she fled Damascus in 2012.
However, not long after that, Liverpool, in southwest Sydney, went into strict lockdown due to the spread of COVID-19, and she was confined to her apartment, sparking memories and fears.
The Australian investigation will be published on Wednesday in the European journal of psychotraumatology, finds that refugees and asylum seekers like Ms. Sbei are particularly vulnerable to stress during the pandemic. She found that COVID-related concerns brought back memories of past events, leading to higher levels of post-traumatic stress disorder (PTSD), depression, and anxiety.
Based on a survey of 656 refugees and asylum seekers living in Australia in June 2020, it is believed to be the first study in the world to document the impact of COVID-19 on the mental health of refugees.
Loading
Lead author Dr Belinda Liddell, from the University of New South Wales School of Psychology Sciences, said the prominent role of government-imposed restrictions, social isolation strategies and quarantine measures, like the use of helicopters, the police and the army, during the confinements they could trigger memories of life. in situations of political terror or in detention.
"We are all struggling with the challenge of COVID-19 but [they are also] remembering past trauma, "he said.
She said researchers were interested in how the refugees were experiencing COVID-19, hoping it could be unique due to its highly traumatic past. They found that more than 41 percent reported that the stresses of the pandemic, such as restrictions on traveling or leaving home, "really reminded people of their past difficulties."
Ms. Sbei found the increased police and military presence to enforce lockdown rules "scary", even though she knows she has done nothing wrong. "It is a trigger, it is not the best thing to see in a safe country. To be honest, we Syrians don't have a good memory of [police]. "