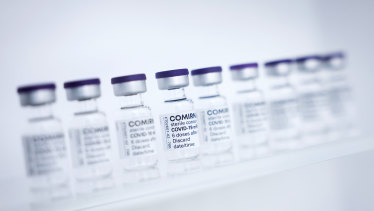 Melbourne is a logical choice for mRNA vaccine manufacturing
For good reason, much of Australia's focus is on hitting the 70 and 80 percent vaccination targets set by the national cabinet based on advice from the Doherty Institute. If all goes well and vaccine hesitancy is not a major problem, most states should meet these goals by the end of the year. With enough people vaccinated, the expected end of the strict closures would be welcome.
But that will not be the end of the pandemic. Due to the highly infectious nature of the Delta variant, COVID-19 will continue to spread through the community, threatening the lives of the unvaccinated. And even when virtually everyone has been vaccinated or infected, COVID-19 is expected to remain endemic, which means that it is likely to continue to spread, only with far fewer serious health consequences.
But there are still many unknowns when it comes to COVID-19. That is why, in the long term, ongoing efforts to develop national capacity to produce large quantities of mRNA vaccine are such an important step in ensuring Australia is prepared for what may happen in the future.
To bring mRNA technology and manufacturing capacity to Australia, the federal government, led by Industry Minister Christian Porter, is in talks with vaccine producers Pfizer and Moderna to license their technology to an Australian partner, similar to the agreement. that AstraZeneca signed with the biotech company CSL.
As many as a dozen local companies are reportedly competing to build facilities to make the mRNA vaccine. Two strong candidates, CSL and its biotech partner IDT, propose to use Melbourne as a base for their manufacturing. Both companies say they could start producing millions of mRNA vaccines in 18 months, although on Wednesday CSL CEO Paul Perreault admitted that the company was unlikely to partner with Pfizer or Moderna to produce its products in Australia in the short term.
Loading
While the federal government has yet to give a timeline for a deal, it is already falling behind. Moderna recently announced an agreement with the Canadian government to manufacture its vaccines locally, and in May BioNTech (working with Pfizer to produce its vaccine) agreed to establish manufacturing In Singapore.
There is good reason for the rush to sign agreements. Many developing countries have only just started vaccinating their populations, so the demand for vaccines will not diminish anytime soon. There's also the need for booster injections is increasing for those who have already been vaccinated, which will put further pressure on already stretched production capacity. And with little progress in pushing for a World Trade Organization waiving intellectual property rights for COVID-19 vaccines, these agreements become even more important.
There is also the worst case scenario. If a new variant of the coronavirus emerges that reduces the protection offered by current vaccines, many nations could be forced to consider re-vaccinating large numbers of people.