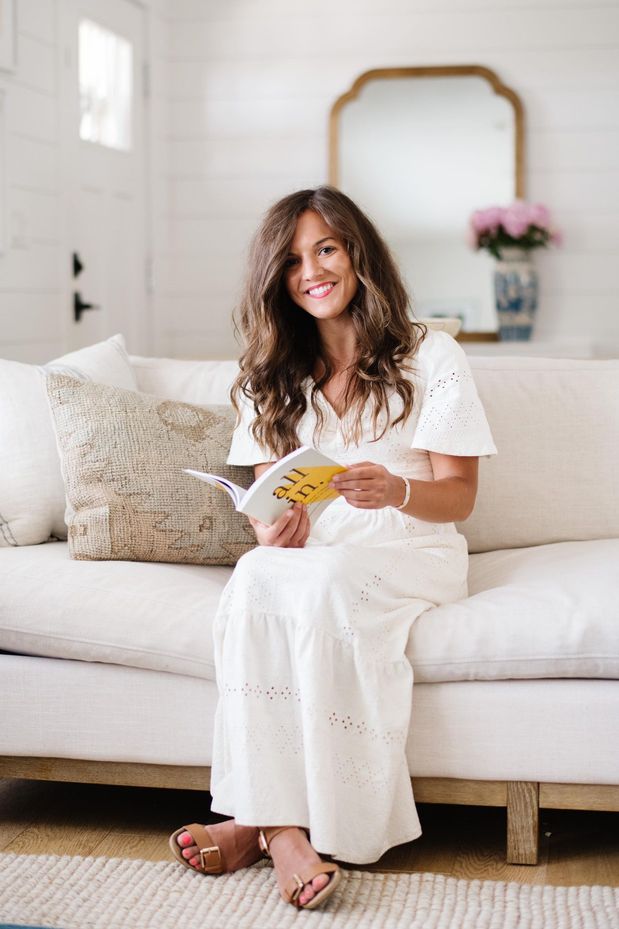 Over Eight Million Downloads Lead To Mormon Podcast-Inspired Book 'All In'
Morgan Jones knew he had a hit on his hands when downloads for "All In," the podcast he hosts for LDS Living magazine, surpassed the 8.6 million mark.
After all, in an industry where 9,000 downloads are enough to place a podcast in the top 5% of a category, it was clear that Ms. Jones's Mormon-themed show had a reach beyond the 6.7 million American members. of The Church of Jesus Christ of Latter-day Saints.
On the podcast, Ms. Jones interviews LDS Church members and some who are not, such as contemporary Christian singer Lauren Daigle, actress Kristen Chenoweth, and "The Chosen" creator Dallas Jenkins, and concludes each session with a question: "What does it mean to be 'all in' the gospel of Jesus Christ?"
The responses spanned a spectrum of Christian attitudes and beliefs, but were so popular with listeners that these digital snapshots ended up being captured and compiled in a decidedly analog fashion, Jones said in an interview from Salt Lake City.
"We started getting emails from people saying they were taking all the 'all-inclusive' responses from the end of each podcast episode and compiling them themselves," he said.
Ms. Jones, 32, said she reasoned "if this is something that people are doing on their own, maybe we will just give it to them and compile it all ourselves." The resulting book, "All In," is available Friday from Deseret Books, which also owns the magazine where Ms. Jones works.
That task, he explained, was easier said than done, he added.
"When I started working on it, however, what I found was that you don't have the previous 35 or 40 minutes of the interview, so sometimes that last answer doesn't have as much impact, and something like I lost something when you isolated that one answer. Jones said.
The response to that lack of context, Jones said, was for her to do "a lot more work" writing introductions and explanations of sections of the book. "I wasn't going to write as much as I did," he admitted.
"The whole time, I thought, 'If this never gets published, I'll be glad I took the time to write down the things I was learning and experiencing,'" Ms. Jones said. "Someday, I hope to have children and to be able to give them this and tell them: 'This is what I worked on, these are the things that I learned and experienced and that is why I believe the things that I believe in because of this very formative period of my life. life, '"he added.
She said the process taught her that approaching faith can be as individual as each follower.
"Our goal, from the beginning, was to show that there was no one way to be everything in the Gospel of Jesus Christ, that it could be different for different people, that it could be different for the same person on a different day, depending on what you're going through, "he said. "I think because different people are going to have different episodes that resonate with them, and different people that they connect with more than others," Jones added.
Those differences between members of the LDS Church and those of other faiths in the way they approach beliefs give people "a sense of belonging and a sense that there is room for everyone," he said.
Steve Carlston, who operates a Los Angeles-owned television network and is a member of the LDS Church, said the book conveys the personality of Ms. Jones along with her message of faith and acceptance.
In the podcast interviews, she said, Ms. Jones "comes out with a wonder and a joy, and shares that wonder and that joy in the book."
Carlston said the book's accounts of the struggles with depression of former Good Morning America co-host Jane Clayson Johnson or Utah resident Bre Lasley, who survived an invasion and stabbing in 2015, demonstrate "the fight for joy, the search for light, opening the windows of heaven in search of answers is universal and for all people ".
Sign up for daily newsletters
Thank you for being a reader of the Washington Times. Comments are temporarily disabled. We apologize for any inconvenience.