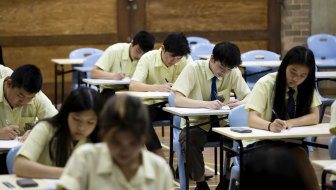 HSC may be delayed until November, with fewer exams
The authority in charge of the HSC wants to move the written exam period to early November and is considering canceling some tests as it struggles to balance the legal requirement to take public exams with the need to take them safely.
The exams have already been delayed a week until October 19, but there are concerns that it is still too early in the state's immunization deadline to bring back 75,000 students for four weeks of tests lasting up to three hours. each.
The NSW Education Standards Authority board has suggested to the government that the test be postponed until early November, giving students more time to be fully vaccinated, several sources told the Herald on condition of anonymity because they were not authorized to speak to the media.
This would also delay the grading period, which usually takes about four weeks. It would be delayed over the Christmas period or require additional bookmarks. Teachers who used to rate the HSC but have not done so for several years could enlist to help.
Due to the social distancing required to minimize COVID-19, many schools would have to use the majority of their classrooms for exams. If the exam period were extended over the traditional four weeks, it would mean that many schools could not have other annual groups in place at the same time.
The NSW Education Act says that public exams must be taken as part of the HSC, but does not say when or define a public exam. One option might be to take just one or a few exams.
Along with the delay until November, the examining authority is also investigating the possibility of a partial HSC, in which only a few examinations were carried out.
Some argue that if the authorities decided on this option, it should include only the English test, which is mandatory for all students and should be included in the Australian tertiary level entry range. Results in English are a strong predictor of ATAR. The remainder of the HSC grade would be based on the school's assessments.
"I don't see how they could do anything other than just speak English," said Craig Petersen, director of the Secondary Board of Directors, who had not been informed of the options being considered by the NSW Education Standards Authority.