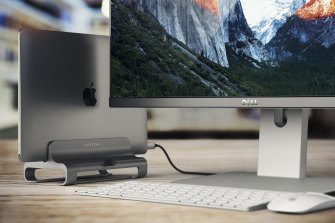 Are you still working at the kitchen table? It is time to update your space.
For many of us, working from home has been a reality for a long time and it looks like it will continue for a while. If you're still working from a laptop on the kitchen table, it's time to set up a more convenient solution that saves space, time, and your neck pain.
For maximum ergonomics, a separate keyboard, mouse, and monitor are best, but they can be a cable management nightmare. If your laptop is recent, it should have a USB-C port that you can route everything through; I'm currently using a $ 109 Satechi V2 multi-port adapter to connect my monitor, USB devices, power adapter, and SD cards to my laptop, all with a single plug.
If your laptop is older, you may need to go straight from it to the monitor and choose a powered USB hub (I've always been lucky with the Targus brand) to get all your accessories in one neat package.
If you use a monitor and close your laptop, you can save a lot of space with a stand or base. Satechi has a good option here too, with a $ 75 adjustable vertical stand that takes up just a few inches of space on your desk and makes it easy to pull out your laptop when you want to go to work on the couch.
And if your work also includes a tablet or phone, you can do wonders for your posture by placing it on a stand as well. The $ 140 HoverBar Duo from Twelve South is the most convenient and flexible option I've used, capable of positioning your device at any height, angle, or orientation. It comes with a weighted base and clamp, as well as an adjustable arm and smart clip that doesn't block the charging ports.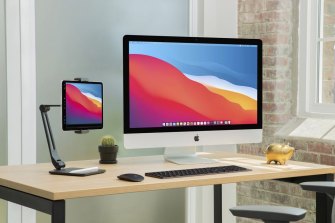 The clip adjusts from about 13cm to about 22cm, so I was able to use it comfortably with iPads, an Android tablet, all but the smallest phones, a Microsoft Surface, and even a Nintendo Switch.
And while I was hoping I would never use a printer again, when you need it, you really need it. The old printer at home was ink starved and unreliable, bulky, and needed to be physically connected to my computer, which is the worst. If you need a new printer, there is a temptation to go very cheap, but it is a bad idea in the long run. Look for a continuous ink tank printer like the Epson EcoTank, Canon MegaTank, or HP's Smart Tank line, which are extremely efficient, refillable with liquid ink rather than exorbitant cartridges, and (for the most part) have Wi-Fi.
I've been using Epson's $ 639 ET-5150, which uses less than half a cent of ink per page and also has an automatic feed document scanner. It'll be steep for most at $ 639, but you could get the same benefits and monochrome printing with the $ 399 ET-M2170, or ditch the scanner and go for the $ 249 ET-M1120.