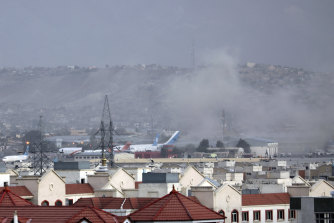 Explosion outside Afghanistan airport, say US officials
Washington: There has been a deadly explosion at the gates of Kabul International Airport just days before the scheduled withdrawal of all US troops, says the Biden administration.
"We can confirm an explosion outside the Kabul airport," Pentagon spokesman John Kirby said on Twitter, then added that the attack had caused an unknown number of victims.
A US military official confirmed that there had been at least one explosion at Abbey Gate, a main entrance to the international airport.
The US embassy in Kabul warned citizens outside the airport to "leave immediately" after the attack.
"There has been a large explosion at the airport and there are reports of gunfire," the embassy said in a security alert.
Early reports indicated that the blast was caused by at least one suicide bomber wearing an explosive vest.
A Taliban official told Reuters that the blast had killed at least 13 people, including children.
US officials told Fox News that at least three US soldiers were injured in the attack, which has not been attributed to a specific group.
The United States and its allies urged their citizens to stay away from the airport on Thursday (AEST) due to the growing risk of terrorism.