How to create and send them?
Communication between parents and teachers plays a very important role in the development of a child.
In fact, investigate shows that optimal communication between parents and teachers can have a significant impact on a child's emotional, intellectual, and physical needs.
But it turns out only 63% of elementary school teachers believe that communicating academic progress to parents is part of their job.
Although the numbers may not seem so bad, there is still room for improvement because students perform better when there is open communication between the school and parents.
For that to happen, you must employ the proper tools and methods, such as parent-teacher meetings, conferences, phone calls, brochures, etc.
But performing these tasks is not very easy. Think about it: how often can you have a conference or meeting? Or if it's phone calls, how often can you call each and every student's parents without causing problems in your daily life?
You need to understand that parents can be too busy to attend meetings each month or take calls at unexpected times.
So what is an effective way to communicate with busy parents without causing too much trouble? Newsletters, of course! It's convenient, accessible, and can convey a lot of information!
So in this blog, we will discuss everything you need to know about sending newsletters to parents, how to create such newsletters, and tips to make them attractive. Without further ado, let's dive into it!
Parent Newsletter: What is it and why do you need it?
A newsletter is a printed or digital writing that contains information and news related to the activities of an organization or institution.
So, a parent newsletter is a newsletter that informs all parents about the school's events, discussions, news, and other relevant information. It is a great and efficient way to keep all parents informed about what is happening in the school and classrooms.
In a parent newsletter, you can include announcements of upcoming events, invitations, explanations of grading policies, student achievements, and more.
But why is it important? Why do you need a parent newsletter? Because there are so many benefits to creating a parent newsletter! A newsletter for parents:
Make a connection between school and parents.
Build trust and strengthen parental involvement in the school.
Creates a better understanding for parents about the school's curriculum and teacher roles.
Helps parents better interact with their children about their intellectual, social, and emotional needs.
Provides regular updates on school activities.
Provides detailed descriptions and information on school events.
Makes information accessible 24 hours a day, 7 days a week.
… and much more! Clearly, creating newsletters for parents is beneficial, not only for parents, but also for the school and students.
The thing about newsletters is that while they are great for you and your recipients, creating them is not the easiest task out there.
Not only do you have to spend hours searching for ideas, you also have to put in the time and effort to design it, put it all together, and then send it all out.
We know you have your plate full. That is why we want to make your life easier by introducing you elink!
Read more: School newsletter: What is it and how to create it? (Free templates included)
Elink.io: The ultimate tool for creating newsletters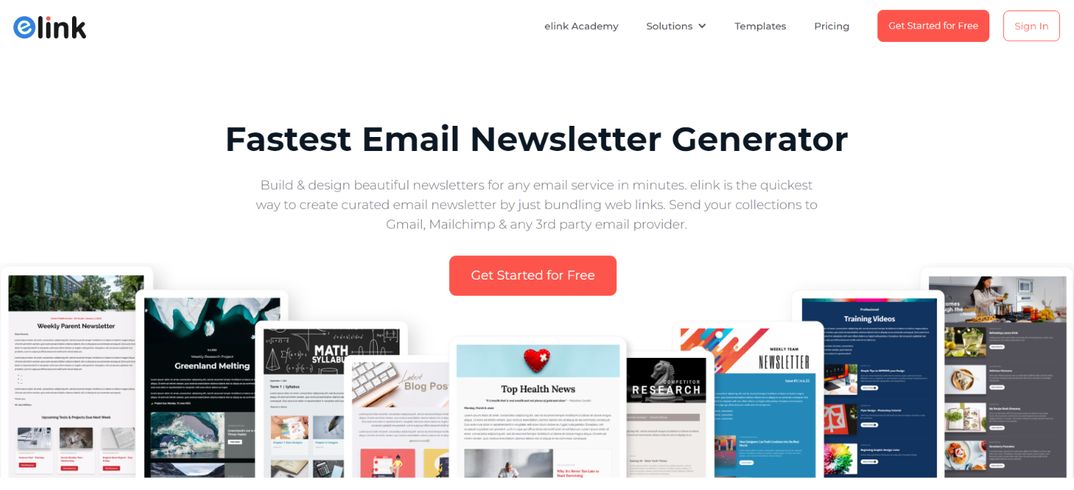 elink is the fastest and easiest way to create and send visually appealing and responsive newsletters. The tool has a collection of beautiful newsletter templates Among which you can choose your favorite and customize it as you want.
To create a newsletter in elink, all you have to do is add links to the content you want to share and elink will automatically convert them into visual blocks with an image, title and a short description.
Elink's robust editor allows you to add elements such as images, texts, bullet lists, numbered lists, dividers, buttons, and even social media icons in the body of the header and footer. You can even add a search bar to your newsletters.
You can even automate the process of creating your newsletter using elink. The best part? The platform integrates with major email clients like Gmail, Constant Contact, Mailchimp, and more.
Now that you know the essence of elink as a newsletter maker, let's go over the steps required to create one with this amazing tool.
How to create newsletters with Elink?
Step 1: choose a newsletter template
The best thing about elink is that you don't have to worry about all the complicated design rules. With elink's awesome newsletter templates, you're already way ahead when it comes to design.
Now this is what you need to do: choose a template and customize it however you want. We have a splendid collection to choose from, so take your time to find the one that best suits your needs.
By the way, you can also create a newsletter from scratch. It is totally up to you.
Step 2: add links to the newsletter
Here comes the fun part. You can add links to content (articles, videos, products, etc.) that you want to appear in your monthly newsletter.
elink is so robust that it will automatically generate an image, a title, and a short description with each link. Of course, you can modify and customize this information if you wish.
elink is also an RSS reader and bookmark manager so you can quickly select your shortlisted links directly from the link library or RSS feeds or enter them manually.
Step 3: add header
We know that a compelling email header design decides whether the reader will read your entire newsletter or set it free. This is why we have given you the option to style your header body any way you want.
You can add images, text, bullet lists, numbered lists, buttons, social icons, and dividers in the body of your header. elink even lets you choose from over 6 font sizes for your header body.
And what is more? You can also use elink's Canva integration and design an eye-catching banner directly in elink.
Step 4: add footer
An email footer is a place where recipients would search for details about your brand. It's a place for transparency, clarity, and good design – exactly what elink offers.
You can add images, text, bullet lists, numbered lists, buttons, social icons, and separators in your footer. Also, you can link social icons with your own social media accounts in seconds.
Step 5: choose a layout for your links
Just go in and don't worry about wasting valuable time designing your monthly newsletter layout. elink has already done all the heavy lifting for you. You can choose your favorite design from all the different options with a simple click of a button and elink will reformat those tiles to the style of your choice.
Step 6: design and customize
You will get a perfect combination of colors in our templates. But, if you want to change the colors, you can too. Apart from that, you can also customize the font styles, button text, and more, with just a few clicks.
One of the strongest features of elink is that you can even add a search bar if you are adding a bunch of links, such as resources, etc.
Step 7: Share your newsletter
Hurrah! You have now created an awesome monthly newsletter that you are ready to share with the world. Now, hit the 'Publish' button in the right corner of the screen and a pop-up window will appear allowing you to customize the URL of your content.
Once you have customized the URL, another pop-up window will appear where you need to select the 'newsletter' option. From there, you can share your masterpiece via Gmail, Mailchimp, or any other third-party email marketing tool like Get Response, Active Campaign, etc.
Tips for creating awesome newsletters
Did you know that an amazing 75% of parents stop reading newsletters completely after a few months at school? Why? Because newsletters are often long and can have content overload.
Nobody wants to create newsletters that sit in the inbox unopened or read, so here are some tips to keep in mind if you want to create engaging newsletters for parents:
Make sure to create relevant and specific content.
Use an eye-catching and compelling subject line.
Keep content sharp, concise, and easy to read; use bullets if necessary.
Avoid jargon and complicated sentence structures.
Choose a tone that captures your readers.
Send out consistent and timely newsletters.
Use visuals like photos, images, gifs, videos, etc. to enrich the experience.
Provide useful links to articles, blogs, etc. to read more.
If you have checked all of these boxes, you will end up with an engaging and engaging newsletter to send out to the parents of your students. Remember, if you take your newsletters seriously, so will parents!
conclusion
Newsletters are a great source of information for parents about their child's school, the activities and events that take place, the achievements and rewards they earn, and much more.
Parents no longer have to worry about cleaning their schedule to attend parent-teacher conferences and meetings. With these newsletters in your inboxes, they can be constantly updated!
In this blog, we've laid out a step-by-step guide on how to create beautiful newsletters for parents using elink, and we've even provided you with some additional tips.
Now all you have to do is head over to elink and create newsletters in just a few clicks. Health!
Read more:
6+ Awesome Teacher Newsletter Templates!
5 Awesome Nonprofit Newsletter Templates You Need To Use!
Nonprofit Newsletter: What It Is & How To Create One In Minutes!
Classroom Newsletter: What, Why and How to Create It?
Product & Ecommerce Newsletter: Ideas, Templates, and How to Create!