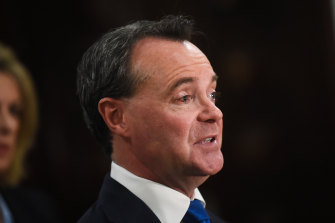 The ineffective opposition is failing the Victorians
No state in Australia has suffered the brunt of this pandemic more than Victoria, which spent 200 days locked up last week. It has been a long and hard job and Victorians have every right to be fed up with their luck.
And yet the latest findings, in a Resolve Political Monitor survey conducted exclusively for Age, suggest that many do not blame Labor for their pain. He has regained the support of voters who previously planned to vote for independent candidates and would easily win an election if it were held today.
The incumbent has proven to be a powerful political force in Australia since COVID-19 took hold, with election victories for Labor in Queensland, Western Australia, the Northern Territory and the ACT, and for Liberals in Tasmania. But all of these states or territories have managed to navigate the pandemic largely unscathed.
That has not been the case in Victoria. The lockdown marathons have caused enormous financial and personal pain, caused widespread damage to people's mental health, and turned tens of thousands of homes into makeshift classrooms. Other states have also been affected by COVID-19, but not to this extent.
For all that, the poll reveals that Daniel Andrews is still far ahead of opposition leader Michael O'Brien when it comes to the preferred prime minister. Fifty percent support Mr. Andrews, compared to 24 percent for Mr. O'Brien. That's a beating.
Andrews may not be repeating his "Dan Daily" press conferences from last year, but there is no doubt that his ubiquitous public presence, thorny demeanor and decisive role have made him a powerful and commanding figure. Andrews' dominance has been accentuated by the opposition's almost total lack of political efficacy. Having consistently failed to exploit Labor's shortcomings, O'Brien's leadership has been on life support for months.
Charging
In March, former shadow minister Brad Battin's attempt to remove O'Brien's leadership was defeated 22 votes to nine. A second challenge was expected earlier this month, but was frustrated by the inability of the party's 31 MPs to meet in one place due to health restrictions.
According to The ages State political editor Annika Smethurst, several Liberal MPs believe that between 12 and 15 of her colleagues would support a change of leadership, just shy of the necessary majority.