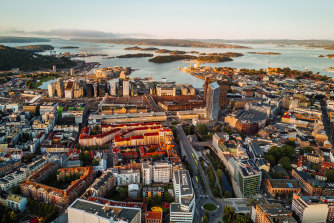 Norway could make history with the first head of central bank
Norway came one step closer to blazing a trail in Western Europe and appointing a central bank chief after Oystein Olsen's announcement that she will step down in February.
His early departure puts Lieutenant Governor Ida Wolden Bache in the first position to succeed him in conducting monetary policy in the richest Nordic economy, according to Nordea Bank economist Dane Cekov and JPMorgan analyst Morten Lund. The Finance Ministry said it is starting a process to replace Olsen, with the goal of appointing a new chief in early 2022.
A female successor would make Norway stand out on a continent where male control of the top money stalls remains firm. No national governor of the euro zone is currently a woman, highlighting how the selection of the president of the European Central Bank, Christine Lagarde, remains one of the only examples of governments in the region breaking the mold.
The UK's record is even worse: The Bank of England is set to rack up 333 years of male leadership when Governor Andrew Bailey ends his term. Within Europe as a whole, only four countries have female governors: Russia, Serbia, North Macedonia, and San Marino.
Born in 1973, Wolden Bache has a PhD from the University of Oslo and has held various positions at the central bank since 2013. She has served as deputy governor in charge of central banking operations since April 2020, in addition to being a member of the Danish Systemic Association. Risk Council since 2017.
His appointment would continue Norway's long history of selecting insiders for top positions at the central bank. Olsen was retired from the statistics agency, while previously he had worked at the Ministry of Finance.
"There is a time for everything," Olsen, who will turn 70 in January, said in a statement. "This is a natural moment to complete a long professional career. I have decided to remain in my position until the end of February next year and finish with my twelfth annual address ".
Olsen, who became governor of Norges Bank in January 2011, is now serving his second six-year term that was expected to run through January 2023.