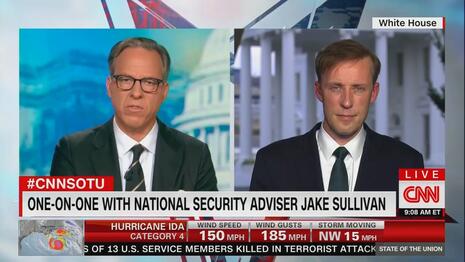 CNN, NBC Pressure Biden Administrative Officials On Giving Taliban 'Kill List' Of Names
At the end of last week, Politico took out a disturbing report that the Biden administration, desperate to play nice with murderous terrorists, turned over what a Pentagon official called a "kill list" of the names of American and Afghan allies to the Taliban. Obviously, Americans were outraged and CNN host Jake Tapper and NBC political director Chuck Todd questioned National Security Advisor Jake Sullivan and Secretary of State Antony Blinken during their respective Sunday shows. State of the union and Meet the press.
There were some Jake-on-Jake fights when Tapper came out swinging when he broached the subject with Sullivan early on on his show. "I understand that the United States has relied on the Taliban for this evacuation process. But with all due respect, many of these Afghan SIVs, you know better than I do, they believe that the Taliban are going to kill them and you have given them a list of their names, "he reprimanded.
"Jake, we have aggressively and decisively contested that report. We have not given a list of all US SIV holders to the Taliban or any other kind of large list, "Sullivan replied.
Notice how he said they didn't deliver a "big list". The crux of their argument was that they allegedly didn't deliver all the names at once or in large batches:
But any idea that we are handing over databases or lists to the Taliban is simply unfounded and inaccurate. What we are doing is working with discrete groups of people to get them to the airfield. That has allowed us to transport literally thousands and tens of thousands of people through Kabul to the airport and out of the country.
Tapper also picked up on Sullivan's phraseology and dived deeper for some answers. "Are you disputing that part of this information was released or are you simply disputing that it was a huge and complete list," he demanded to know. "I mean, maybe there was a smaller list and those SIVs didn't go into the airport. Is there any chance that that happened? "
Of course, Sullivan came back with an answer that he obviously felt kept him protected from the possible reality of the situation (click "expand"):
And, to my knowledge, we have had no instances where we have coordinated to make a particular move at the airfield outside of HKIA. [Hamid Karzai International Airport] that we have not been able to get that group that we, the United States government, have said is a priority for us. We need to move him to the airfield.

Of course, there have been people turned away at the Taliban checkpoints. And now we are working to try to resolve all those cases so that if there is someone eligible to come to the United States, we can bring them here.
"There is no such, in quotation marks, in quotation marks, 'list of murders.' … It's silly, it's irresponsible and unfounded reporting, "Sullivan snorted.
At NBC, Todd tried to disarm some of Blinken's alleged objections with the murder list report noting that "you think some of this has been a bit exaggerated or over-reported." But he delved into the fears of the American allies: "[H]How can you be sure that any list you share of Afghans who helped Americans will not be used for horrendous reasons by the Haqqani network or others? "
Blinken tried to argue as Sullivan did that there was no list of Americans and allies turned over to the Taliban. But Todd cut him off and asked "what was shared", and Blinken later admitted that he was given names:
BLINKEN: Chuck, it's just not the case. The idea that we did something to put those who were trying to help to leave the country at greater risk is simply wrong. And the idea that we share lists of Americans or others with the Taliban is simply wrong.

TODD: What was shared?

BLINKEN: So in specific cases, when you're trying to get a bus or group of people to pass and you need to show a manifest to do so, because particularly in cases where people don't have the necessary credentials or documents in them, then it will share the names from the lists of people on the bus so you can be sure that those are the people we are looking to bring.
"And to the extent in an individual case with a particular group or a bus, to verify that the people on the bus or in that group were people who were supposed to go out," he added. "But the idea that we put someone in additional danger is just wrong."
Todd followed up with a question about what we promised the Taliban to cooperate. "Is it money? Is it money that we have frozen right now that maybe they can use to rule? "
The secretary said nothing had been promised, but said the Taliban knew that the United States and the world had "very high expectations."
The transcripts are below, click "expand" to read:
CNN State of the union
August 29, 2021
9:08:38 am ET

(…)

JAKE TAPPER: He spoke about the commitment to special visa applicants for Afghan immigrants. There was a report that the Biden administration has not denied that US government employees gave a list of Afghan SIVs, whom the US was trying to evacuate, to the Taliban to allow them to pass the checkpoints. .

I understand that the United States has relied on the Taliban for this evacuation process. But with all due respect, many of these Afghan SIVs – you know better than I do – believe that the Taliban are going to kill them and you have given them a list of their names.

JAKE SULLIVAN (National Security Advisor): Jake, we have aggressively and decisively disputed that report. We have not provided any list of all US SIV holders to the Taliban or any other kind of large list.

What your viewers need to understand is that the way we move, thousands upon thousands of Afghans at risk to the airport, is to ask them to come together, many of them on buses, to take them to the airport. And then we work with the Taliban, group by group, bus by bus, to get them through the Taliban checkpoints and into the airport compound.

That is the kind of coordination that we have done with the Taliban. That has resulted in journalists, women, pilots, and other IMS being able to pass through, get on planes, and leave the country.

But any idea that we are handing over databases or lists to the Taliban is simply unfounded and inaccurate. What we are doing is working with discrete groups of people to get them to the airfield. That has allowed us to transport literally thousands and tens of thousands of people through Kabul to the airport and out of the country.

TAPPER: Well, there was a Pentagon official in that report who referred to this as a murder list. Are you disputing that some of this information was provided or are you simply disputing that it was a huge and comprehensive list? I mean, maybe there was a smaller list and those SIVs didn't go into the airport. Is there any chance that that happened?

SULLIVAN: I just explained to you the process that we have used, which is to have groups of people move to places that we have identified, to work with the Taliban to get through those places and get to the airport.

And, to my knowledge, we have had no instances where we have coordinated to make a particular move at the airfield outside of HKIA. [Hamid Karzai International Airport] that we have not been able to get that group that we, the United States government, have said is a priority for us. We need to move him to the airfield.

Of course, there have been people turned away at the Taliban checkpoints. And now we are working to try to resolve all those cases so that if there is someone eligible to come to the United States, we can bring them here.

But the idea of ​​what you just quoted from a Pentagon official is not – flat out wrong. There is no such, in quotes, without quotes, "list of deaths". That is to say, it is nonsense, it is an irresponsible and unfounded report.

(…)
NBC Meet the press
August 29, 2021
10:40:07 am ET

(…)

CHUCK TODD: I want to ask you about the idea that some of these lists of people who are trying to leave the country have had to give them to the Taliban. And I know that you have something, that you believe that some of this has been a little exaggerated or reported. But given the Haqqani network's ties to the Taliban, how can you be sure that any list you share of Afghans who aided the Americans will not be used for horrendous reasons by the Haqqani network or others?

SECOND. ANTONY BLINKEN: Chuck, it's just not the case. The idea that we did something to put those who were trying to help to leave the country at greater risk is simply wrong. And the idea that we share lists of Americans or others with the Taliban is simply wrong.

TODD: What was shared?

BLINKEN: So in specific cases, when you're trying to get a bus or group of people to pass and you need to show a manifest to do so, because particularly in cases where people don't have the necessary credentials or documents in them, then it will share the names from the lists of people on the bus so you can be sure that those are the people we are looking to bring.

And by definition, that's exactly what happened. We have removed 5,500 US citizens from Afghanistan. And to the point in an individual case with a particular group or a bus, to verify that the people on the bus or in that group were people who were supposed to leave, American citizens, especially, again, if they lack the right. document with them, that's what we would do. But the idea that we put someone in additional danger is simply wrong.

TODD: What has been promised to the Taliban for this cooperation? Is it money? Is it money that we have frozen right now that perhaps they can use to rule?

BLINKEN: Nothing has been promised to the Taliban. On the contrary, we have made it very clear, and not only we, country by country around the world, have made it clear that there are very important expectations that the Taliban in the future, if they are going to have some kind of relationship with the USA. rest of the world.

Starting with the freedom to travel. But then making sure that they are upholding the basic rights of their people, including women and girls, making sure that they are honoring the commitments they have repeatedly made on counterterrorism and that they have some governance inclusiveness.

(…)