Schools are adapting, but the best learning is done face-to-face
As locked-in Year 12 students pay attention to the General Achievement Test (GAT) rescheduled for 9 September, there seems to be a growing prospect that Victorian schools may not return to in-person learning until the beginning of the first quarter in 2022. Planning for this possibility is underway.
So significant has been the impact of the closures on young people that a return to conventional face-to-face learning will be only part of a major period of readjustment involving all aspects of their lives. The process will likely take years.
On the positive side, state school principals, Catholics, and independent school sectors confirm that, far from floating on water, many schools have been adapting, innovating, and improvising in ways that could not have been imagined just 18 years ago. months.
Principals, teachers, support staff, students, and their parents in general have been challenged to ensure that learning continues and that lockdown is not a barrier to curriculum progress, regardless of year group. It's hard? Yes. Does it work for everyone? No. Are you pushing school resources to the limit? Absolutely.
Much of the innovation is based on the use of advanced online technology that, although not always reliable or even available in many rural and regional centers, or in disadvantaged families, has proven its effectiveness for the majority of students and teachers.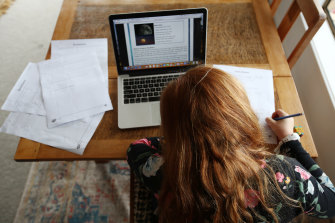 Most Victoria high schools have switched to online scoring and planning for online end-of-year assessments is well under way. The teachers and moderators (often parents) of the live sessions in front of the camera report being completely exhausted by the end of the day. The same goes for students.
At one of Victoria's largest state schools, McKinnon Secondary College, there have been online sessions for parent-teacher discussions, exercise classes for the entire school community, singing sessions with artists (each on dedicated screens separate from each other ) and online sessions dedicated to current affairs available to all members of the school community. This is the best for community building.
It is not disputed that young people, both at the primary and secondary levels, have borne a disproportionately large share of the burden of confinement. His anxiety is now compounded by the knowledge of his susceptibility to the Delta variant and the lack of access to vaccines.