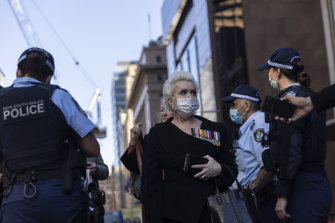 Police were injured in coordinated protests against the blockade in New South Wales
NSW police arrested more than 150 people and issued nearly 600 fines after dozens of coordinated protests against the lockdown took place across the state on Tuesday, mostly against local council chambers.
Deputy Commissioner Mal Lanyon said three officers had received minor injuries during 79 unauthorized demonstrations and that fines were issued for noncompliance with public health orders.
NSW Police have been monitoring the online activities of fringe groups behind the demonstrations with officers deployed to various sites expected to be targeted by protesters, including Parliament House and council chambers.
Police attended protests in New South Wales, including 29 in Sydney, 25 in the northern part of the state, 14 in the south and nine in the western region.
Charging
The demonstrations were held in front of the city hall buildings in Sydney, including Sutherland, Blacktown, Fairfield and Liverpool. In the New South Wales region, protests took place in places like Byron Bay, Grafton, Lismore, Dubbo and Shellharbour.
At 4.30 p.m., 153 people had been arrested and 573 fines issued for non-compliance.
"We have made it very clear in the past weeks that the police are not opposed to free speech," said Commissioner Lanyon.
"We oppose activities that violate the sanitary order and endanger the vast majority of the community.