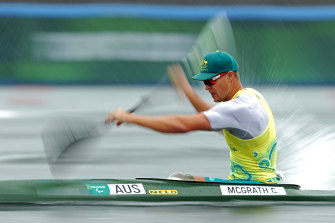 Calendar, medal count, results, times, how to watch, events
Australian canoe speed champion Curtis McGrath has overcome some difficult moments in his opening heats on Thursday after drifting slightly off course twice in the KL2 and VL3 events.
The former Australian Army combat engineer who lost both legs in Afghanistan in 2012 but kept his promise to make it to the Paralympic Games in Brazil five years ago admitted that rudderless craft can sometimes be difficult to keep on course. .
Queenslander McGrath came down last in his men's 200-meter individual kayak, but qualified comfortably for Friday's semi-finals.
"In the first race I had a little problem and I couldn't really keep it straight in the middle of my lane, so I decided it wasn't worth winning the series and then getting disqualified," McGrath said.
"[I] I knew it would be better to relax and go to the semi-final tomorrow. I'm glad it happened in that race and not in the final. "
Not long after, in his heat for the 200-meter Va'a men's single, the 33-year-old nearly went out of his lane late when his canoe hit a buoy near the finish line. While a red flag was being lit, his heat race gained approval and he progressed to the finals.
McGrath was unable to advance directly to Saturday's KL2 final.
"In VL3, again, it was a bit of a problem for me to stay in the center of my lane, I hit the blocks a little bit at the end, but that passed the finish line and in my mind that is off the table. There are no problems, "he said.
"It's tough. These boats don't have rudders. You have to manipulate them, especially when there's a bit of a breeze here. Maybe some of the rules need to be talked about, in terms of keeping them in your lane, rather than in the middle of your lane. ".