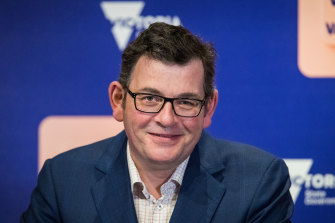 Worrisome signs that our hospitals were unable to cope with the rise in COVID
Until last week, Prime Minister Daniel Andrews's job was relatively straightforward: target zero COVID cases and then open normally. That strategy, restrictions and blocks, worked five times before.
But on Wednesday, Andrews accepted that this blockade, the sixth, will not be able to prevent the spread of the Delta variant.
"Our goal was to cut it down and make cases drop, "he said." Now, the advice of the experts is that that is not possible. "
And with that, the Premier's work did not focus on eradication, but on solving the much more complicated puzzle that living with COVID will be.
Charging
What "freedoms" could be granted and when. What current restrictions could remain indefinitely. Fundamentally, as Mr. Andrews suggested on Friday, it also has a clear focus on our hospitals: particularly whether they will be able to cope with the pressure that the likely increase in COVID cases will cause.
Before the national cabinet discussion Friday night on the hospital's capacity, federal Health Minister Greg Hunt said the government was "confident in the readiness of all states and territories."
Be that as it may, the signs are dire. On Thursday, the president of the Australian Medical Association, Dr. Omar Khorshid, suggested that "our hospitals do not start from a strong position. Far from there ".
A Age Analysis of hospital performance data reported on Saturday found that virtually every part of Victoria's system is deteriorating, from ambulance response times and access to mental health beds to the number of hospital patients in need. urgent treatment: in June of last year there were 1,875 patients categorized as "Urgent" on the waiting list; a year later there were 2,333.